Year Six
Welcome to Year Six! In Yr 6 there are two classes, 6H and 6P.
6H - Mr. Hedderley
6P - Mrs. Pollitt
The TA in Year Six is Miss Clarke.
GETTING READY FOR YEAR 7
Children should now be aware of the school they will be going to in Year 7. Should you be unsure of any of the details, including deadlines and appeals, please visit the Birmingham Council website, Secondary section, found HERE
--------------------------
NEW SCHOOLS INFORMATION
We receive information in the forms of packs, videos or invites to open days from some Secondary schools. As we receive it, we will place the files or links on this page. Please note, we do not have control over if, or when, we receive this information or what it contains. If you have any questions, please contact the Secondary School directly - clicking on the school takes you to their website.
| | |
| --- | --- |
| SCHOOL | INFORMATION |
| Light Hall | PDF at the bottom of the page (Open Day) |
| | |
You can now contact your Teachers and Teaching Assistants!
year6@grendon.bham.sch.uk
This email can be used if you need to speak to a member of staff or arrange an appointment. Please remember, staff will be unable to speak to you before and after school in the normal way so an appointment will need to be made.
School Arrangements:
Start at 9.00am Finish 3.15pm
Enter through the MAIN GATE
Exit through the MAIN VEHICLE GATE
Children can be dropped off and collected from the Zebra Crossing area by the bike shelter. Children will enter the side playground and line up on the yellow stripes. We kindly request no adults in this area.
I have to isolate but my friends are at school...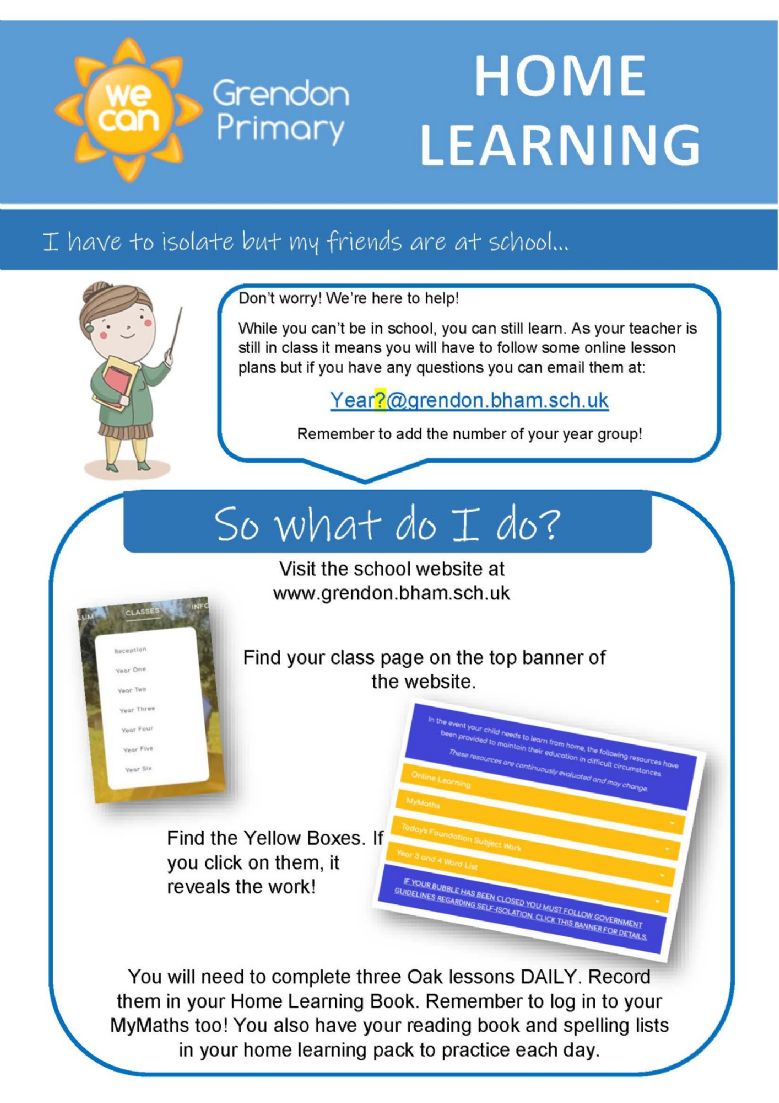 What do I do if my whole bubble is closed?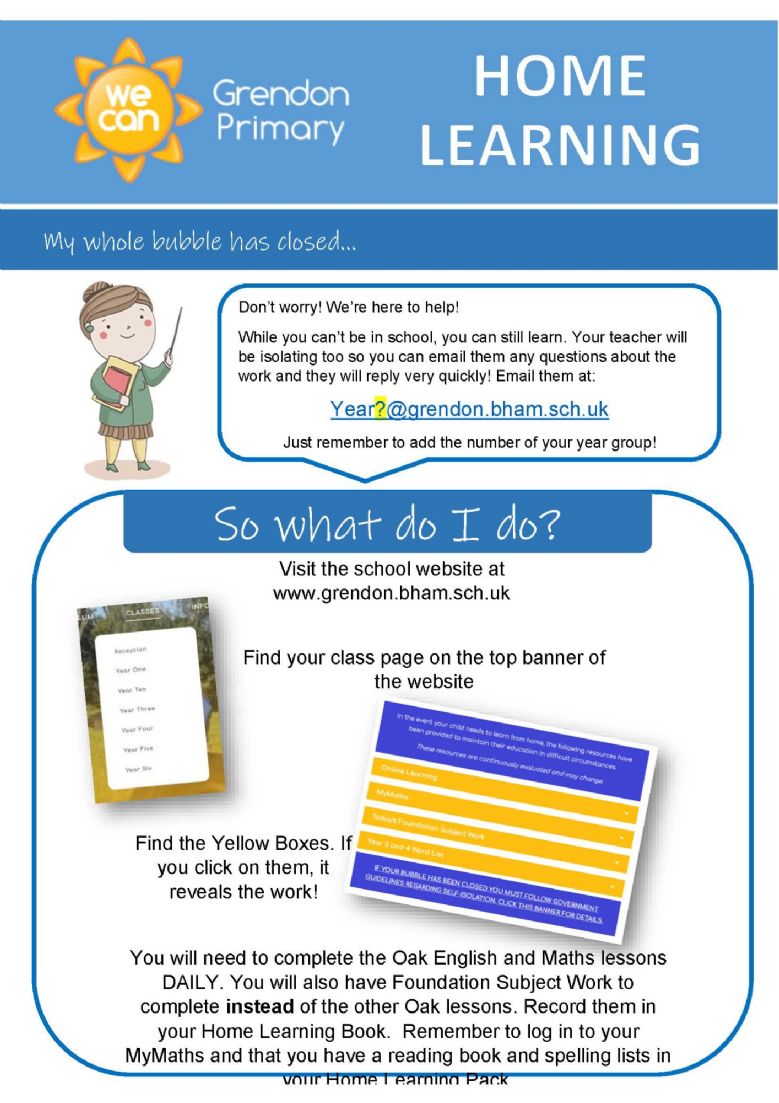 What else do I need to know?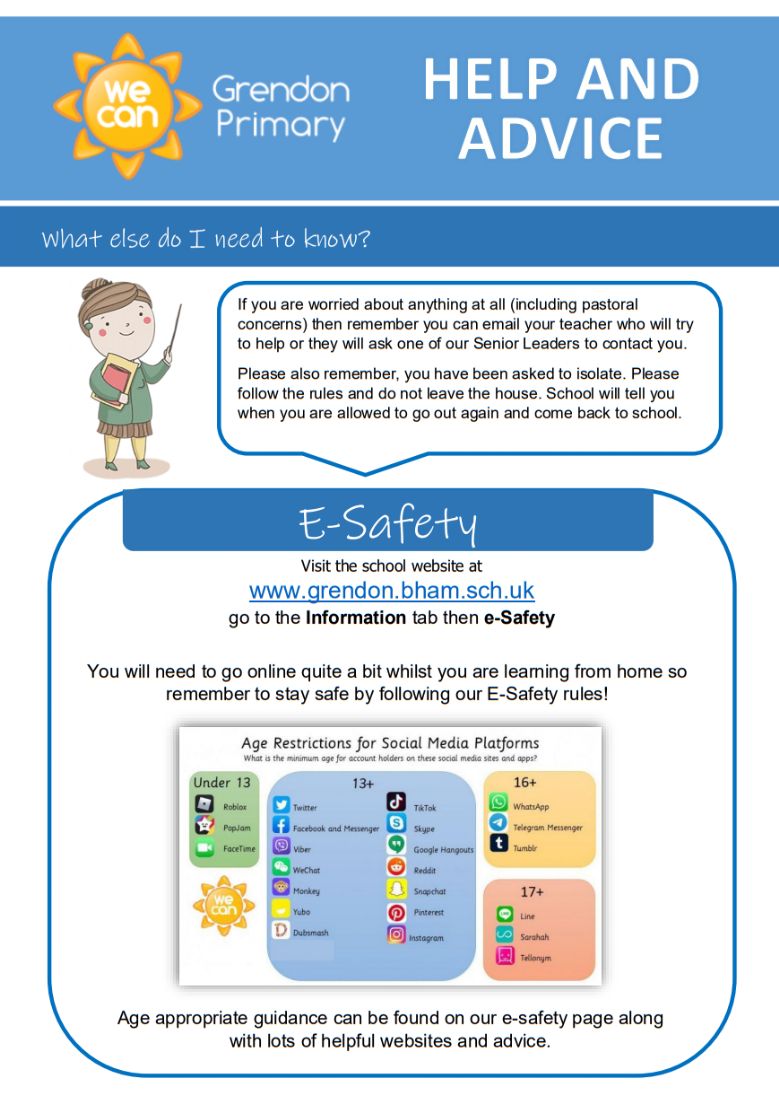 REMOTE LEARNING AREA
In the event your child needs to learn from home, the following resources have been provided to maintain their education in difficult circumstances. Click on the yellow bar to reveal each section.
You can also access library books by clicking HERE
For information on our support for SEND, please click HERE
These resources are continuously evaluated and may change.
Online Learning (Three lessons)
In the event you need to access Home Learning, we are pleased to recommend Oak Academy for daily lessons. These can be accessed by clicking here:
There are three lessons a day. There is a literacy lesson, a maths lesson and then another focus lesson.
Please note: whatever day is your first day isolating, please start on the Monday lesson of the week on Oak, otherwise you will not be able to follow the lessons. You can then follow the next ten lessons online (two complete weeks)
MyMaths
You can access MyMaths by clicking here:
You will need the school login which is grendon and the password is sixteen970. You then have an individual login, this will have been given to you by your class teacher. If you don't have it, please speak to the teacher or email them on the address above.
Online Learning (for bubble closures)
In the event of a whole school closure, or a bubble closure, this tab will have a personalised lesson for you.
Weekly Spellings
| | |
| --- | --- |
| rhythm | queue |
| rhyme | queueing |
| restaurant | professional |
| relevant | privilege |
| recommend | proclaim |
Year 5 and 6 Word List
| | | | | |
| --- | --- | --- | --- | --- |
| accommodate | accompany | according | achieve | aggressive |
| amateur | ancient | apparent | appreciate | attached |
| available | average | awkward | bargain | bruise |
| category | cemetery | committee | communicate | community |
| competition | conscience | conscious | controversy | convenience |
| correspond | criticise | curiosity | definite | desperate |
| determined | develop | dictionary | disastrous | embarrass |
| environment | equip | especially | exaggerate | excellent |
| existence | explanation | familiar | foreign | forty |
| frequently | government | guarantee | harass | hindrance |
| identity | immediately | individual | interfere | interrupt |
| language | leisure | lighting | mischievous | muscle |
| necessary | neighbour | nuisance | occupy | occur |
| opportunity | parliament | persuade | physical | prejudice |
| privilege | profession | programme | pronunciation | queue |
| recognise | recommend | relevant | rhyme | rhythm |
| sacrifice | secretary | shoulder | signature | sincerely |
| soldier | stomach | sufficient | suggest | symbol |
| system | temperature | thorough | twelfth | variety |
| vegetable | vehicle | yacht | | |