Reception
Welcome to Reception!
RW - Miss Wilson
The TA in Reception is Mrs. Barshan

You can now contact your Teachers and Teaching Assistants!
reception@grendon.bham.sch.uk
On this page you will find the information you will need to help your child at school. You will also find helpful resources (in the yellow drop-down boxes) for your child to access at home as well as newsletters and homework at the bottom of the page.
NEW RECEPTION CLASS (2023/24) INDUCTION PROCESS
| Date | Session |
| --- | --- |
| 4/5th September | School Teacher Training days. School closed to pupils. |
| 6th September | Stay and Play Session |
| 7th September | Children stay for the morning session till midday |
| 8th September | Children stay for the morning session and lunch. Collected at 1.15. |
| 11th September | Full-time schooling begins. |
More detailed plans have been emailed to you or given to you at the Stay and Play sessions in July. Should you need further information or clarification on the induction process, please email the address above.
What we are learning this year
If you click the image it will open up a larger version in a new window. It can also be downloaded in PDF format at the bottom of the page.
Information can be found by clicking on the yellow tabs below.
Reading
Once children have secured enough phonics sounds, they will receive a RW Inc. reading book. Practise the red and green words at the front of the book with your child and then read the story. It is important to do this at least three time to develop fluency and expression. Please make a comment in their blue diaries to say you have read.
For further information, please see the following links:
Handwriting
We use the following letter formation from Debbie Hepplewhite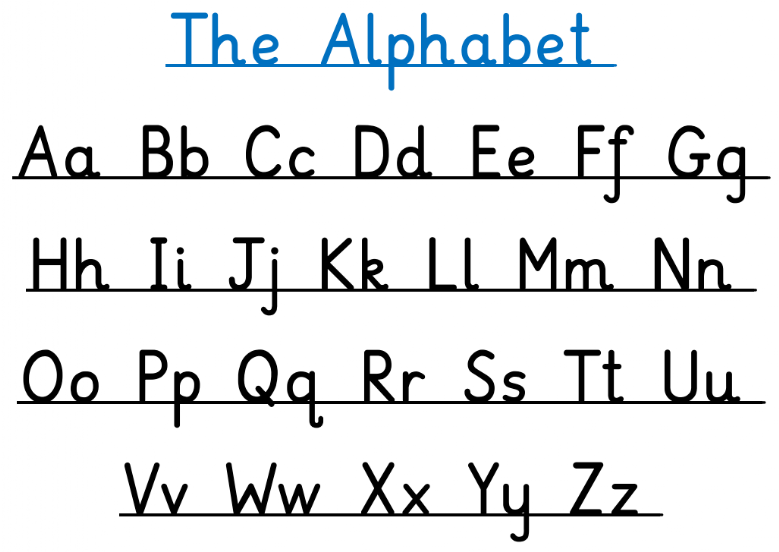 Book Bags
Please bring these to school every day. Children should have their Reading Diary and any books, Ditty Sheets or Tricky Words in them. Please make sure you are writing in their Reading Diary too!
Uniform
Our uniform information can be found HERE. Please ensure all articles of clothing have names in. We do our best to help children keep track of their items, but we need your help with this.
PE Kit
PE Kits stay in school, and we send them home once every half-term to be washed. For information about our kit, see the UNIFORM information.
Water Bottles and Snacks
Please provide a reusable water bottle with your child's name on it. This should only be for water. Children can also bring in a healthy snack for breaktime if they wish, but fruit is supplied daily.
Reading for pleasure
We are running a Reading Challenge in school ready for world book day. Children can read ten books and complete a review for each to take part. There are some brilliant prizes available! For more information click HERE.
To support our reading curriculum we have subscribed to Wheelers ebooks. For information and to login, please click HERE
We are also lucky to have a wonderful library available to us locally at Maypole. If you are not already a member, you should make time for a visit.
Reception/ Year 1 (Red Words)
| | | | | | | | |
| --- | --- | --- | --- | --- | --- | --- | --- |
| I | the | to | is | no | go | he | she |
| of | be | me | we | my | by | you | said |
| was | are | do | so | they | your | her | his |
| come | has | there | where | our | were | one | some |
| here | love | school | little | ask | house | one | says |
| today | once | our | friend | all | call | old | does |
| want | saw | what | small | why | son | over | their |
| two | does | walk | talk | brother | mother | other | father |