Reception
Welcome to Reception! In Reception there are two classes, RF and RR.
RF - Miss. Featherstone
RR - Ms. Richardson
The TAs in Reception are Mrs Leavy and Miss Roath.


You can now contact your Teachers and Teaching Assistants!
eyfs2020@grendon.bham.sch.uk
This email can be used if you need to speak to a member of staff or arrange an appointment. Please remember, staff will be unable to speak to you before and after school in the normal way so an appointment will need to be made.
School Arrangements:
Start at 8.50am Finish 3.05pm
Enter through the MIDDLE GATE
Exit through the blue gate between Grendon and Billesley Nursery
Please line up in front of the Reception entrance on the yellow stripes. An adult can wait with their child (one adult per child)
I have to isolate but my friends are at school...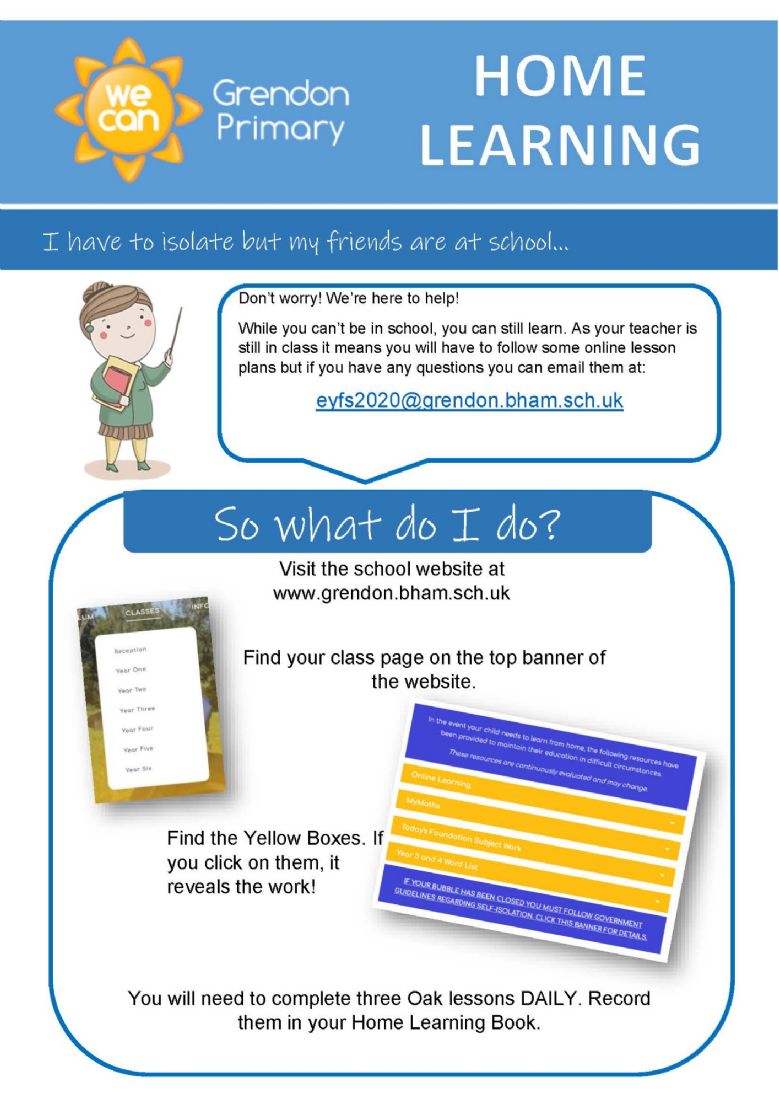 What do I do if my whole bubble is closed?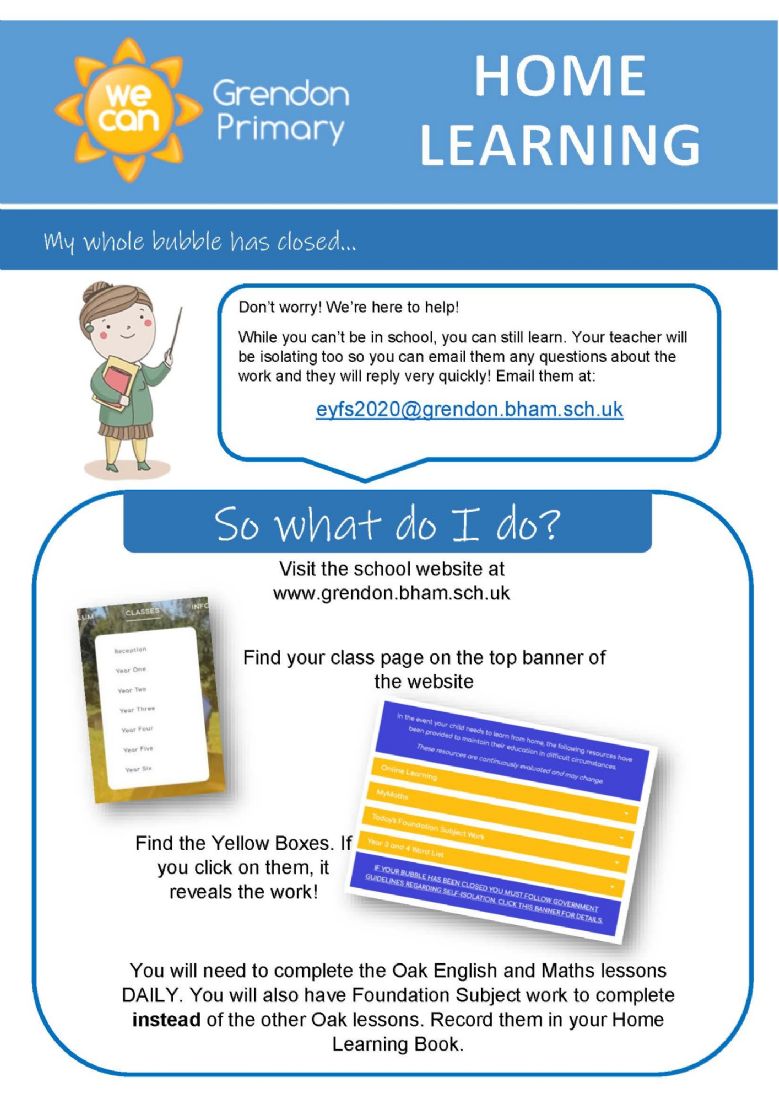 What else do I need to know?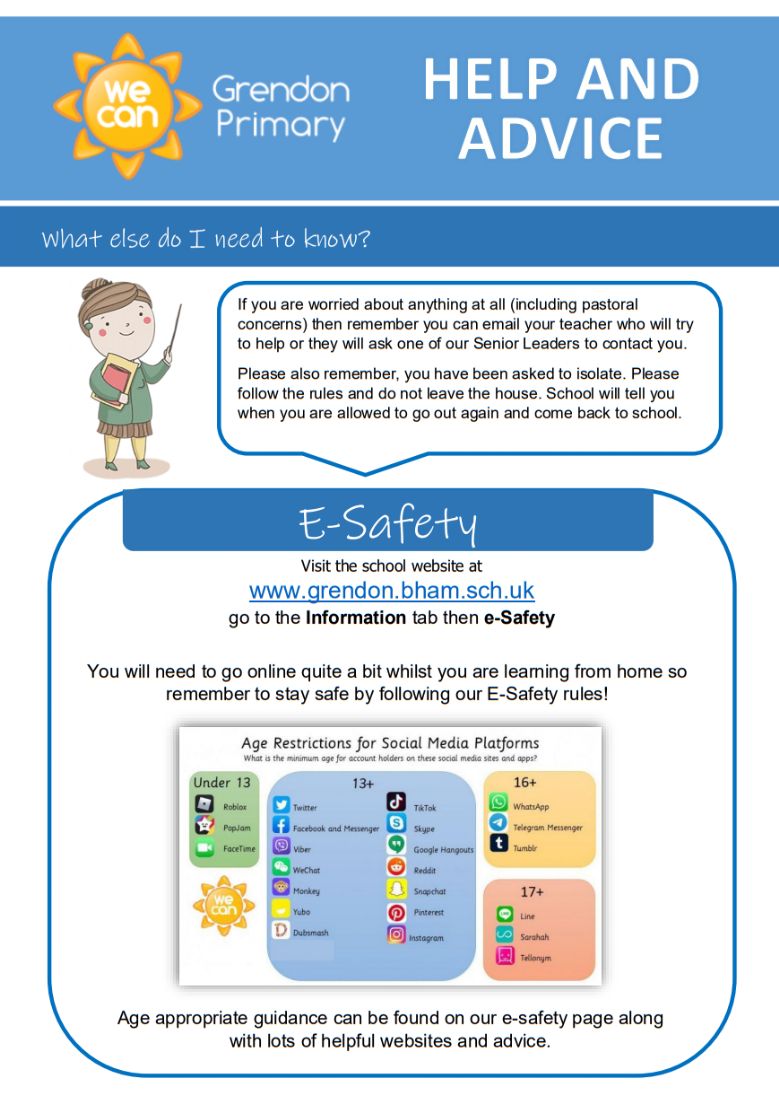 REMOTE LEARNING AREA
In the event your child needs to learn from home, the following resources have been provided to maintain their education in difficult circumstances. Click on the yellow bar to reveal each section.
You can also access library books by clicking HERE
For information on our support for SEND, please click HERE
These resources are continuously evaluated and may change.
Online Learning (English and Maths)
In the event you need to access Home Learning, we are pleased to recommend Oak Academy for daily lessons. These can be accessed by clicking here:
There are two lessons a day. There is a literacy lesson and a maths lesson. You can then access one of our phonics lessons in the tab below.
Please note: whatever day is your first day isolating, please start on the Monday lesson of the week on Oak, otherwise you will not be able to follow the lessons. You can then follow the next ten lessons online (two complete weeks)
Reception/ Year 1 (Red Words)
| | | | | | | | |
| --- | --- | --- | --- | --- | --- | --- | --- |
| I | the | to | is | no | go | he | she |
| of | be | me | we | my | by | you | said |
| was | are | do | so | they | your | her | his |
| come | has | there | where | our | were | one | some |
| here | love | school | little | ask | house | one | says |
| today | once | our | friend | all | call | old | does |
| want | saw | what | small | why | son | over | their |
| two | does | walk | talk | brother | mother | other | father |