Reception
Welcome to Reception! In Reception there are two classes, RF and RR.
RF - Miss. Featherstone
RR - Ms. Richardson
The TAs in Reception are Mrs Leavy and Miss Roath.


You can now contact your Teachers and Teaching Assistants!
eyfs2020@grendon.bham.sch.uk
This email can be used if you need to speak to a member of staff or arrange an appointment. Please remember, staff will be unable to speak to you before and after school in the normal way so an appointment will need to be made.
School Arrangements:
Start at 8.50am Finish 3.05pm
Enter through the MIDDLE GATE
Exit through the blue gate between Grendon and Billesley Nursery
Please line up in front of the Reception entrance on the yellow stripes. An adult can wait with their child (one adult per child)
I have to isolate but my friends are at school...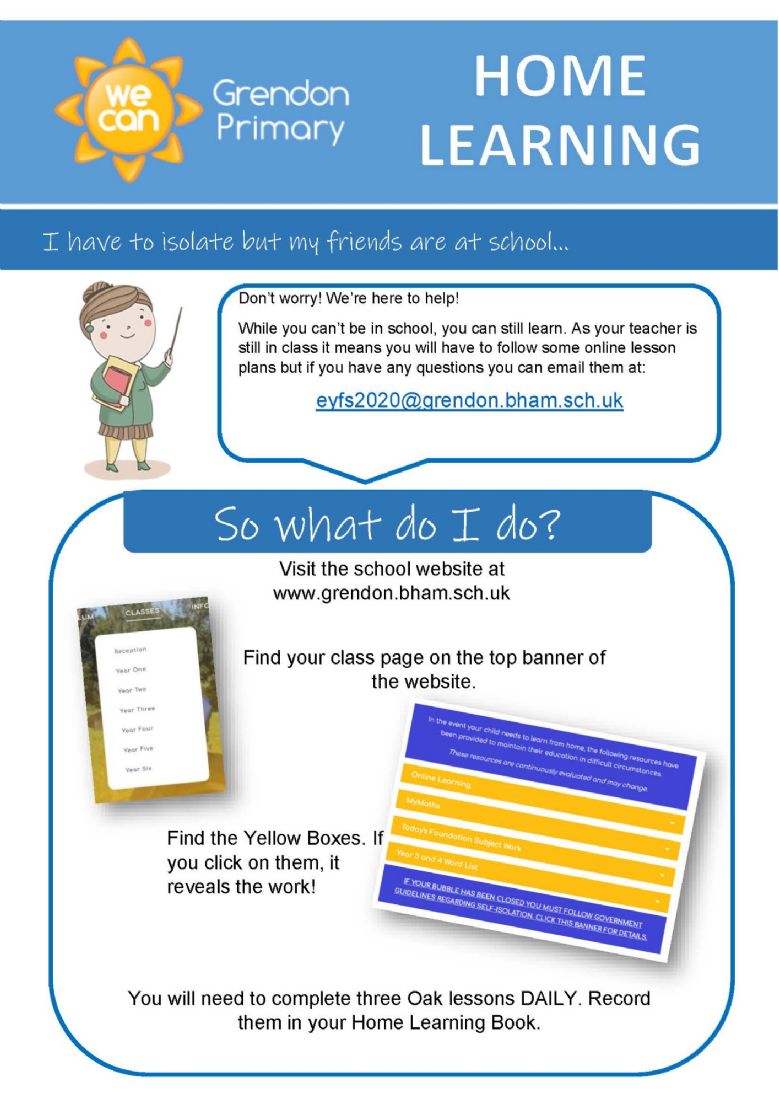 What do I do if my whole bubble is closed?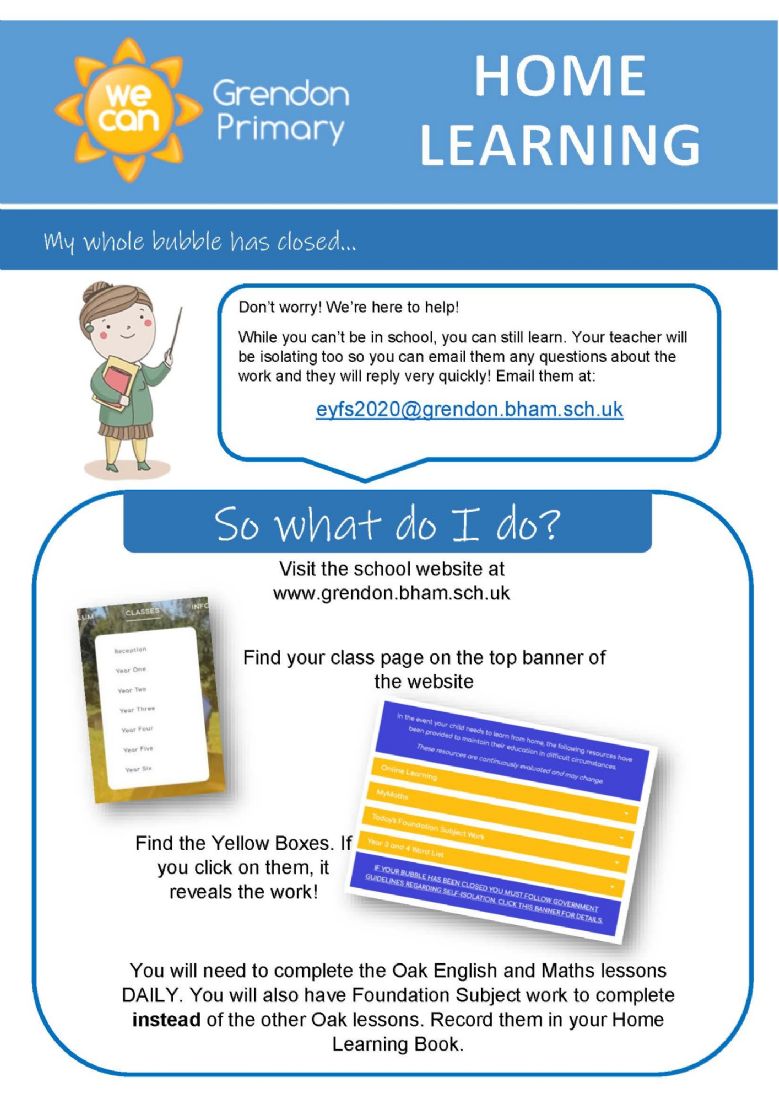 What else do I need to know?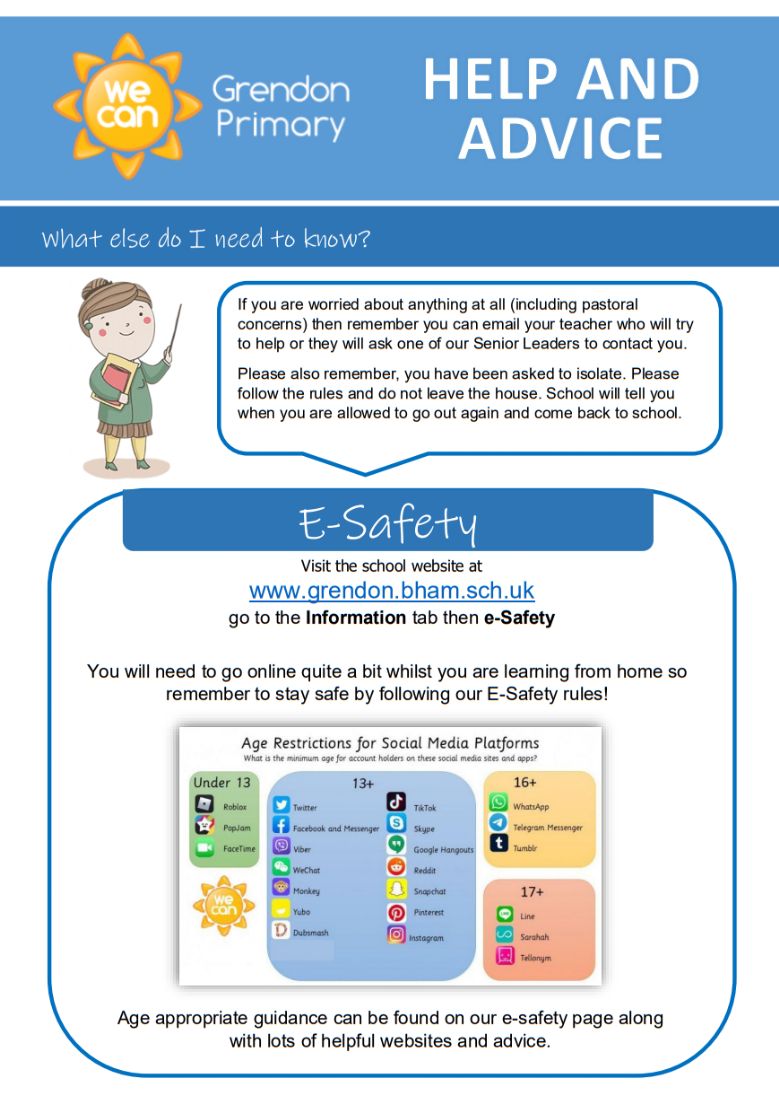 REMOTE LEARNING AREA
In the event your child needs to learn from home, the following resources have been provided to maintain their education in difficult circumstances. Click on the yellow bar to reveal each section.
You can also access library books by clicking HERE
For information on our support for SEND, please click HERE
These resources are continuously evaluated and may change.
Online Learning (English and Maths)
In the event you need to access Home Learning, we are pleased to recommend Oak Academy for daily lessons. These can be accessed by clicking here:
There are two lessons a day. There is a literacy lesson and a maths lesson. You can then access one of our phonics lessons in the tab below.
Please note: whatever day is your first day isolating, please start on the Monday lesson of the week on Oak, otherwise you will not be able to follow the lessons. You can then follow the next ten lessons online (two complete weeks)
Reception/ Year 1 (Red Words)
| | | | | | | | |
| --- | --- | --- | --- | --- | --- | --- | --- |
| I | the | to | is | no | go | he | she |
| of | be | me | we | my | by | you | said |
| was | are | do | so | they | your | her | his |
| come | has | there | where | our | were | one | some |
| here | love | school | little | ask | house | one | says |
| today | once | our | friend | all | call | old | does |
| want | saw | what | small | why | son | over | their |
| two | does | walk | talk | brother | mother | other | father |
Starting School
Children join Reception in the school year when they turn 5. All children start in September. School places are allocated by Birmingham city council. Families should apply for a place at school following the Birmingham City Council process and timings. See our ADMISSIONS tab for details.
For some children starting school will be a continuation of their education with a Nursery provider. For other children, Reception could be their first experience of being away from home. For all children and families it can be both daunting and exciting. We provide a full induction programme of registration and information meetings, familiarisation through home or nursery visits and stay and play sessions and then short days to start. The initial focus for Reception in September will be on establishing routines and relationships.
What's it like in Reception?
At Grendon, we have two reception classes. Each class has a teacher and a teaching assistant. Class sizes are typically 30 children. Your child's 'keyworker' will be their class teacher.
The Reception classrooms are adjacent to each other with interconnecting doors. Both rooms have self-contained toilets and direct access to the outdoor area. Each classroom has a carpeted area and a messy area. Children will access a full range of activities in their classrooms including dough, paint, books, blocks and construction, games, role play, small world play, as well as more subject specific resources.
Outside, children have access to a climbing frame, wheeled toys, agility tracks, large scale construction. We are developing space for reading and group work. There is a large covered area and we have waterproof suits and welly boots available for the wettest days.
Children in Reception will use the school halls for assemblies and lunchtime, the KS1 playground for playtime and lunchtimes and may also visit the computer suite or school library. We use the school grounds for lessons regularly. Whenever possible we like to take children out in the local area. Visits further afield are arranged when they support the curriculum content.
Children in Reception attend school from 9am to 3.15 Monday to Friday. Term dates and teacher training days are listed on the school website. A typical day will feature a mix of whole class teaching input, adult directed tasks and child initiated work. We teach phonics daily and provide access to the outdoor area as often as practical.
Procedures for accidents and injuries
While we work hard to keep children safe at all times, unfortunately, children will sometimes be injured at school.
For Reception children, if an accident occurs during class time the teacher or teaching assistant will decide if first aid is required. If staff are unsure about the severity of the injury, advice will be sought from a qualified paediatric first aider.
If an injury occurs during playtime or lunchtime, the child will be sent to the medical room to see a qualified first aider. Visits to the medical room are recorded in a book.
Where the injury is more serious and will require continued monitoring at home, e.g. a bump to the head, first aiders will decide if a telephone call home is appropriate and complete a note to be sent home with the child.
We regularly remind children that they need to tell an adult if they are hurt and it is useful if this message is re-enforced at home.
The first aiders in school, including those with a paediatric qualification, is shown on the staffing board outside the school office.
Behaviour Management
Learning to play with other children, to develop healthy relationships and to follow rules and routines are an essential part of each child's Early Years experience. At Grendon, we work hard to familiarise children with the expectations and to teach them how to make good choices so that everyone can be safe and happy in school.
A target board system is used across the school to visually promote good behaviour choices. Children will be encouraged to 'stay in gold' throughout the school day.
If a child is regularly out of gold, the class teacher will talk to parents. They may be invited in to school for a discussion the behaviour and to make plans to improve it with the class teacher and/or the Key Stage Leader.
If you require more information about managing your child's behaviour at home the NSPCC have some practical advice HERE.
A full copy of our Behaviour Policy can be found HERE