Parent Partnership Programme
Teachers, parents and the children themselves all have an important role to play in how children learn. At Grendon Primary School, we recognise the value for the school, pupils and parents of working in partnership.
A strong partnership between school and home is essential for a child to succeed.
At Grendon we offer many opportunities for parents to get involved in their child's school life. Parents are regularly invited in as an audience for children to share their learning with or to celebration assemblies.
We also offer a programme of 'Stay and Play' and 'Learning Together' which is designed to get parent's involved in their child's classroom. If parents are unable to attend on the given dates, grandparents, aunties or uncles are very welcome in their place!
'Stay and Play' and 'Learning Together' sessions are important for teachers, parents and of course the children.
* For teachers, we are able to get to know the parents of children in our class in a relaxed environment and we can explain and demonstrate the teaching methods we use and avoid different confusing methods being taught at home.
* For parents this is an opportunity to find out what and how your child is taught in school, to see your children at school and to participate in their classroom based learning.
* For children this is a chance to see that parents and school are working in partnership in supporting them to do their best and an opportunity to show parents what they are doing at school.
Most importantly, we hope that everyone involved in learning together in school will have fun!
Here is what children and adults have said about our Parent Partnership Programme: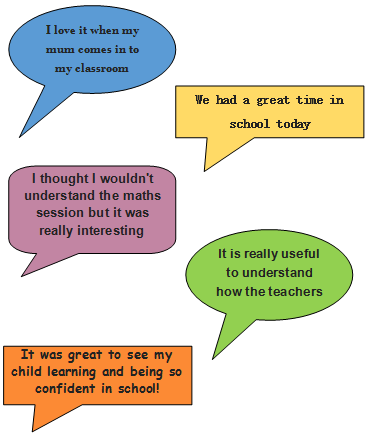 Details of the dates for this term can be found below and in the school newsletters.