Foundation Subjects
The curriculum we teach at Grendon Primary school is designed to fulfil the aspirations of our school vision and curriculum intent. It delivers the National Curriculum (2014) content in a progressive and structured manner.
All non-core subjects are of equal importance. Subjects are delivered in either Blocked Units (termly) or through Regular Teaching.
Blocked Units: Art, Computing, DT, Geography, History and Music.
Regular Teaching: French and PE are taught weekly.
Work for most Foundation Subjects is recorded in children's Foundation Curriculum Journal - a multi subject exercise book, in sketchbooks or on class display boards.
PSHE and RE fall under our Life Education curriculum and more information can be found in this area (see tab to side)
We are also involved in the School Games project in collaboration with a number of other schools in the local area. Due to COVID19 this years awards have been suspended, however we have received a certificate for our ongoing participation.
Our Certificate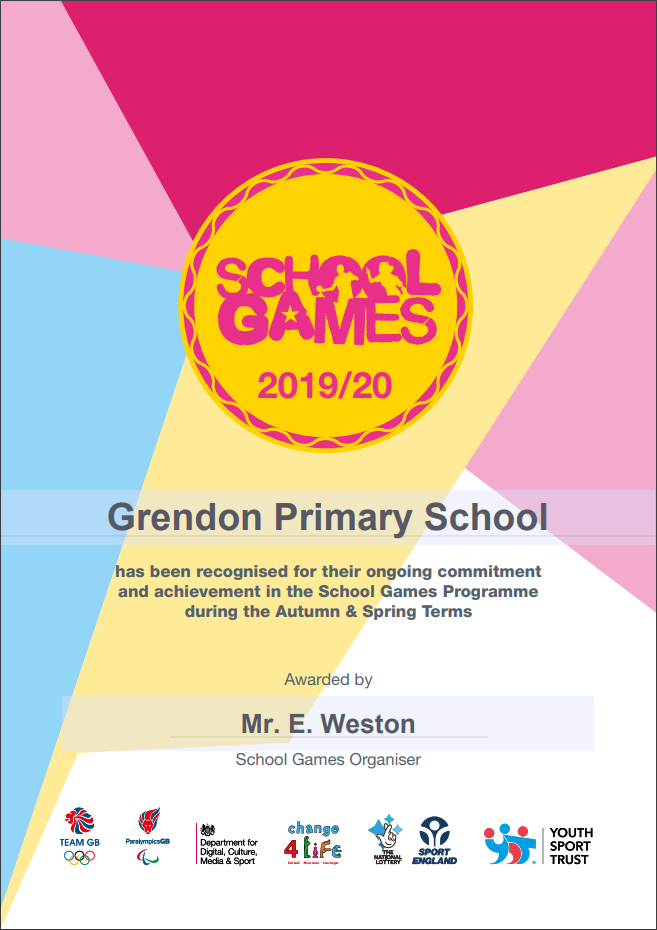 The documents below contain information about the teaching of Foundation Subjects at Grendon in each year group.