Embedded Principles
Through everything we do at Grendon we promote our embedded principles and prepare children for their future lives. Our Embedded Principles are modelled and developed in daily interactions, through planned teaching opportunities in curriculum time and through our assembly and collective worship programme.
Independence
We can build independent learners
We support children to develop independence and promote this through the activities and challenges we provide to them in school.
Communication
We can build learners who are able to communicate confidently
We encourage children to be better communicators through a focus on modelled language and the provision of daily opportunities to both talk and listen.
Talking Tuesdays where children put down their pens and use talk to share their learning are a regular feature of our school calendar.
Children who need additional support with speech and language are supported by the speech and language team.
Resilience
We can build resilient learners
Teaching children how to have a Growth Mind-set is embedded in the delivery of PSHE lessons, school assemblies and is a big part of daily classroom practise.
The We Can ethos is fully embedded at Grendon Primary School. Children have embraced the idea of growth mind-set and refer to their We Can badge when facing challenges during the school day.
UNICEF Children's Rights
We promote, protect and teach children's rights.
At Grendon Primary school, we recognise and value the importance of teaching children about their rights under the 1991 UN Convention on the Rights of the Child (UNCRC). This international agreement sets out 54 articles which define children's rights and how adults, as duty bearers, must ensure these are met.
Through a focus on the CRC, children at Grendon begin to understand ideas of fairness and equality. They develop a view of themselves as a global citizen and begin to recognise when they or others are not treated correctly.
We have carefully mapped the rights in the CRC to our school vision, ethos and aims. Our pupils are actively engaged in furthering our rights agenda.
We are proud of out UNICEF RRSA 'Gold' award which we achieved in June 2022. You can find details of this in the Report which can be found at the bottom of this page.
Further information on the UNICEF Rights Respecting Schools award can be found by CLICKING HERE
Unicef Pupil Team
This groups of pupils meets weekly. Their role is to support Mrs Collins in planning and leading the development of the RRSA project and Mrs Collins is VERY grateful to them all for giving up their lunchtimes. Children share their ideas and encourage their class and teachers to be excited about rights.
What have we been doing?
We brainstormed all of our ideas about what makes Grendon so great and produced this amazing word cloud.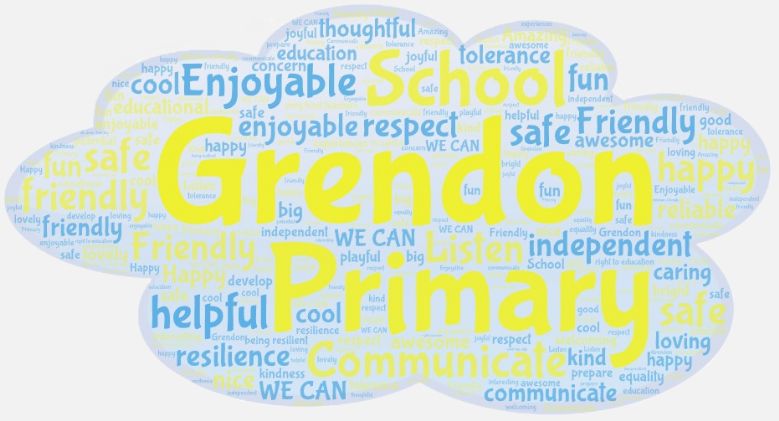 We considered which rights we felt were important and then matched these to the school ethos, vision and aims.
Pupils from Year 4 and 6 planned and produced a video about how the Convention on the Rights of the Child are enjoyed at Grendon.
Pupils from Year 3 and 5 planned and produced a video Rights Charter for Grendon Primary School.
Children's Rights Lessons
Children receive half termly lessons about the Convention on the Rights of the Child. Children find these lessons interesting and engaging and are very motivated to take part and to find out more.
In the Autumn, children learn ABOUT rights and become familiar with the CRC and its specific articles. They also learn the ABCDE of rights
Rights are for all,
Rights start at BIRTH,
Rights CANNOT be taken away,
Rights DO NOT have to be earnt,
and all the rights are EQUALLY important.
In the Spring, children learn FOR rights by making a concrete impact on the world around them at a school, local, national or global scale.
In the Summer, children learn THROUGH rights for example by looking at case studies where rights have not been met.
Children's Rights across the Curriculum
In our Foundation subject and Life Education curriculum and our programme of assemblies, references are made to rights whenever they can be.
This is an assembly which School Council prepared before lockdown.
Our staff use rights aware language when managing children's behaviour.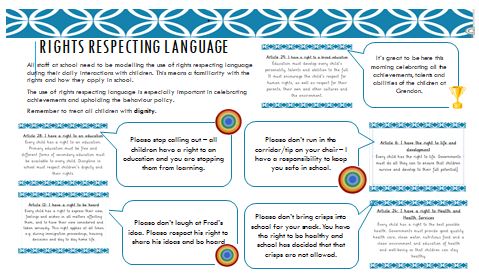 Our Class Charters
Our class charters help us to use our rights everyday in school. We worked with our classes to choose our most important rights for school and to display them. We will be taking our charters to our new classrooms in September.
British Values
At Grendon Primary School, we recognise the importance of embedding British Values at the core of our curriculum offer. British Values naturally flow through all elements of school life. They are firmly embedded within our school aims.
British Values are addressed regularly in school through both the academic and pastoral curricula as well as through our Enrichment programme.
Build independent and resilient learners who are able to communicate confidently
Listen to and treat each other and all member of the community with respect, tolerance and concern
Recognise ability, maximise potential and prepare children well for their future life in modern Britain
British Values are addressed regularly in school through both the academic and pastoral curricula as well as through our Enrichment programme.
Pastoral Curriculum & Life Education.
We promote democracy through our School Council which is elected following a campaign and secret ballot. Applications for prefect and Head boy/girl roles are open to all Year 6 pupils and roles are given following an application and interview process. Pupils are regularly encouraged to participate in daily democracy e.g. holding a class vote as a mechanism for decision making.
In PSHE, children learn about Living in the Wider World. They learn that other people may have a different opinion to them, develop an understanding of the communities they belong to and learn how to make and explain their decisions.
In RE children study the concept of fairness. In Year 3, they study the Christian story of Jacob and Esau and the story of The Black Stone from Islam.
During work on the Unicef RRSA, children are encouraged to prioritise global issues. They vote to suggest ways to resolve a problem.
We promote the rule of law in the annual, shared development of class rules and the clearly outlined and consistent consequences for breaking these. We encourage pupils to take responsibility for their choices.
In PSHE all classes begin the year by discussing the importance of rules and the consequences for breaking them. Children and their teachers work together to develop and agree to class rules for the year. Children learn about rules for keeping healthy and safe (including online safety)
In RE, Year 2 children investigate the concept 'loving God is the most important rule'. Children in Year 4 explore the idea from the Torah that 'the golden rule is love'.
During work on the Unicef RRSA children are introduced to rights and come to understand that this is a standard that they can expect.
Tolerance, respect and understanding of all religions and beliefs is a fundamental expectation at Grendon Primary school. We welcome all and expect our pupils to do the same. Knowledge from Religious Education teaching supports children to understand others' beliefs and customs.
In PSHE, Y4 and Y5 children learn about national, regional, religious and ethnic identities in the UK. They learn about discrimination, teasing and bullying. Children in Y5 and Y6 find out about stereotyping.
The whole ethos behind our RE teaching is that learning about and identifying similarities between the various world religions develops an understanding and tolerance of other peoples' ideas, customs and beliefs. Children learn about holy books, places of worship and belonging traditions. Specifically, children in Year 2 explore the story of the 'Good Samaritan'. In Year 6, children find out about religious persecution.
During work on the Unicef RRSA, children learn about other children and gain a global perspective.
Our PSHE teaching embeds skills for emotional intelligence and for building and maintaining strong, healthy and effective relationships. This is supported by the Pastoral team who offer additional support when it is needed and by all members of the staff team in their daily interactions with children.
In PSHE, Y1 children learn to play and work cooperatively. Y2 children learn about bullying and strategies related to this. In Y3, children consider the consequences of their actions on other people and in Y6 children focus on emotions related to themselves and others.
Relationships form an essential part of our RE teaching. Children learn about Naboth's Vineyard and Martin Luther King's story in Year 3. In Year 5, they learn about people whose beliefs have changed the world and in Year 6 children explore the story of 'Buddha and Anguilimala'.
During work on the Unicef RRSA children work towards a class charter of rights.
We promote individual liberty. We encourage all pupils to develop a sense of self and to recognise and develop their individuality. Children with specific, additional needs or particular talents or abilities are offered additional support to achieve their best. Our Rights Respecting School Award work develops pupil's sense of rights and the corresponding responsibilities.
In PSHE, Y1 children learn to recognise their own personal preferences. Y4 look at their achievements, strengths, aspirations and goals.
In RE, Year 1 children explore the stories of Jonah and Zaccheus. In Year 4 the creation theme is explored in light of 'a unique me' and in Year 6, children evaluate personal qualities as they reflect on a journey to spiritual perfection.
During work on the Unicef RRSA children are encouraged to discuss and share their ideas and to respect the thoughts of other children.
Academic Curriculum
Just as horizontal, vertical or diagonal links and cross-curricular opportunities are identified and exploited in our Academic Curriculum, we also identify and address British Values where a natural link to Foundation Subjects exists. These links are clearly marked on Foundation Subject Unit plans.
Here are a few examples:
Democracy

In Geography children in Y1 and Y3 learn about the UK as their nation.

In Y6 History, The Battle of Britain, children consider the ideas of democracy v's dictatorship.
Rule of law

In French, children in Y3 learn to follow classroom instructions in French.

In History, Y4 children learn about how Roman Britain was ruled. Y5 children contrast this with understanding how Anglo Saxon Britain was ruled.

Safety rules and games rules form an important element of our PE teaching across the school.

Children in Reception follow a 'people who help us' unit and this involves inviting the local police and PCSO's into school.

Tolerance, respect and understanding of all religions and beliefs

French allows children to learn about a different country and culture.

In DT lessons, Y5 and Y6 children are encouraged to understand and respect dietary choices (halal/vegetarian) informed by religious beliefs.

In Music, children learn to appreciate music from a range of cultures and listen in a respectful way. This music may be different to what children would normally listen to.
Relationships

In Y4 Art, children learn to respect others when they consider mental illness in the context of Van Gogh.

In Computing, children are taught about respecting others' privacy by not logging onto someone else's accounts.

In French, children learn about respecting others regardless of how different they might be to ourselves.

In History, Y1 children learn how women's lives were different during Victorian times. Y2 children learn about George Cadbury's vision to support his workers.

In PE, children are expected to respect all members of the class regardless of their ability.

In Music, children learn to respect that some children prefer different types of music to others and that not all children like the same music as themselves.
Individual liberty

In Art, children learn about making individual choices in their Pop Art work. They find out that individual choices can be hard to make when learning about impressionists. Children find out how Freida Kahlo did not conform to the accepted idea of beauty.

Children are asked to give an individual opinion about food in their Y5 French lessons.

In PE, children are encouraged to set their own personal targets and goals.

In Y2 DT, children have the opportunity to select the filling for their sandwiches.

In their Geography unit on Brazil, Y5 children learn how their individual choices impact on the environment.

In Music, children learn to share their own opinions and ideas and to respect others' ideas.

In Music, children are given the opportunity to express themselves as individuals when listening to and creating music.
Enrichment Programme
Our Enrichment programme offers additional opportunities for children to explore the British Values. Many of our Enrichment opportunities change each year and where these do have links to British Values, they are highlighted in the annual plans.
Examples of how the British Values are reflected in our Enrichment Programme are set out below:
| | |
| --- | --- |
| Democracy | Visits to Birmingham Council House e.g. to meet the Lord Mayor |
| Rule of law | During gardening sessions, children are given clear health and safety guidelines and are trusted to work with sharp apparatus such as spades and forks within specific guidelines. |
| Tolerance, respect and understanding of all religions and beliefs | Pupils have opportunities to meet leaders from different faiths and to visit different places of worship. |
| Relationships | Identified pupils are invited to attend a Health for Life club which supports physical health, an understanding of nutrition but also has a focus on building and maintaining relationships. |
| Individual liberty | The variety of clubs we offer are designed to support and develop children's individual talents and interests. |
Mental Health and Wellbeing
Mental Health and Wellbeing are essential to general wellness and the ability to meet your potential. At Grendon, we prioritise the mental health and wellbeing of all members of our school community. Wellbeing is one of our school's Embedded Principles and its influence can be seen through all of our work.
Our whole school Wellbeing Strategy makes explicit what we do to promote and support wellbeing at Grendon. It includes action planning for future actions to promote mental health and wellbeing across our school and for all stakeholders.
The Wellbeing Strategy is published on the school website.