Early Years (EYFS)
In the Early Years at Grendon, we support and encourage children to become independent, enthusiastic, curious and successful individuals. We want all children to enjoy their time in class, make a positive start to their school life and to achieve the best they can.
At Grendon we know that the early years are an essential foundation for a child's education providing the building blocks and essential skills for socialising and learning. In line with the rest of the school, we encourage children working in our Early Years classes to believe in and act in line with our school motto 'We Can'.
Play and playful teaching forms the basis of how children learn in the Early Years at Grendon. Some learning will be directed by the adults working with children while other opportunities will be child initiated. Much of children's directed learning will be delivered through games, songs and practical activities although as the school year progresses children will sometimes be taught more formally.
We provide children in the Early Years with an inviting and enabling environment. Children have self-contained classrooms and access to a large outdoor area. We build positive relationships in school and work closely with parents through our daily interactions, online learning journals and regular stay and play sessions. We provide a well-planned curriculum which is flexible enough to meet the individual interests of each child. Observations of child initiated play and assessment of adult led activities are used to challenge, support and motivate children at their individual level.
What do we teach?
Children in the Early Years classes follow the Early Years Foundation Stage (EYFS) curriculum. This is the curriculum for all children in England from birth to 5 years.
The EYFS curriculum includes PRIME and SPECIFIC areas of learning. The characteristics of effective learning underpin all learning in the Early Years. Through all experiences in school, children are supported to play and explore, participate in active learning and to create and think critically.
The Prime areas form the foundations of learning. They are crucial for igniting children's curiosity and enthusiasm for learning, and for building their capacity to learn, form relationships and thrive. Once a child is competent with the Prime areas of learning, they are ready to begin accessing more subject specific content.
The Prime areas are:
Communication and Language
Physical Development
Personal, Social and Emotional Development
The Specific areas of learning are:
Literacy
Mathematics
Understanding the World
Expressive Arts and Design
More information on the EYFS curriculum can be found at https://www.gov.uk/early-years-foundation-stage or in the parent friendly document 'What to Expect When' which you can download here:
https://www.birmingham.gov.uk/downloads/download/1482/early_years_curriculum_group_resources
Tapestry Learning Journals
Children's individual achievements are recorded using an online Learning Journal 'Tapestry'. School staff upload photos and notes about the activities children have taken part in at school. Parents are able to access and add to their child's journal from home. Tapestry journals show parents what and how their child is learning at school and allows school to build a rounded picture of each child.
Tapestry access is through a free APP on smartphones or through any internet browser. We ask parents to sign a 'Responsible Use Policy' before gaining access to their child's account.
"It is so nice to be able to see what my child has done at school each day"
"Technology hates me so I thought it would be complicated but the App on my phone is so
simple and I like the reminder e-mails I get too!"
"I like showing Mummy my Tapestry pictures at home"

Supporting All Children
Children with identified special educational needs or medical needs will receive additional support from our school Senco or Senior Learning Mentor. They will engage additional support from external agencies as is required for the particular needs of each child. If you have any concerns about your child you should discuss these with your child's class teacher in the first instance.
Assessment
We complete an internal baseline assessment of children at the start of their time in school. Assessments are repeated at the end of each term to track both progress and attainment.
At the end of their Reception year, children will be assessed against the Early Learning Goals. This information is reported to parents and also to the Local Authority in the form of the Early Years Foundation Stage Profile EYFSP.
Procedures for accidents and injuries
While we work hard to keep children safe at all times, unfortunately, children will sometimes be injured at school.
For Reception children, if an accident occurs during class time the teacher or teaching assistant will decide if first aid is required. If staff are unsure about the severity of the injury, advice will be sought from a qualified paediatric first aider.
If an injury occurs during playtime or lunchtime, the child will be sent to the medical room to see a qualified first aider. Visits to the medical room are recorded in a book.
Where the injury is more serious and will require continued monitoring at home, e.g. a bump to the head, first aiders will decide if a telephone call home is appropriate and complete a note to be sent home with the child.
We regularly remind children that they need to tell an adult if they are hurt and it is useful if this message is re-enforced at home.
The first aiders in school, including those with a paediatric qualification, is shown on the staffing board outside the school office.
Safeguarding Responsibility
We have a statutory duty of care to all children attending our school. When we have concern's regarding a child's welfare a log will be made of this. In some instances, we are obliged to report our concerns to the Local Authority children's services.
Behaviour Management
Learning to play with other children, to develop healthy relationships and to follow rules and routines are an essential part of each child's Early Years experience. At Grendon, we work hard to familiarise children with the expectations and to teach them how to make good choices so that everyone can be safe and happy in school.
A target board system is used across the school to visually promote good behaviour choices. Children will be encouraged to 'stay in gold' throughout the school day.
If a child is regularly out of gold, the class teacher will talk to parents. They may be invited in to school for a discussion the behaviour and to make plans to improve it with the class teacher and or the Phase Leader.
If you require more information about managing your child's behaviour at home the NSPCC have some practical advice here: https://www.nspcc.org.uk/globalassets/documents/advice-and-info/positive-parenting.pdf
Links with parents
Information about what is happening in school is sent home through notes, school and class newsletters, GroupCall texts and sometimes on Tapestry.
Teachers are not always able to talk to parents about their child at pick up or collection times but messages from the school office are always passed on to teachers and if a face to face meeting is required this can be arranged in advance for before or after school.
Parents in the Early Years receive a regular update of what children have been doing in school through the Tapestry journal. Please don't forget to add an observation to your child's Tapestry journal when they have achieved something special at home.
More formally, parents are invited into school for a formal Parents Evening to discuss individual children's achievements each term. A written report will be sent home at the end of the school year.
Stay and play sessions are held regularly throughout the year to allow parents to share in children's learning. This is part of our school's Parent Partnership Programme. Sometimes there will be a brief informative presentation or a planned activity for you to complete with your child.
Teachers will sometimes send homework tasks to support what we learn at school. These will very term by term but might be linked to the class investigation theme, maths or English work.
The very best support a parent can offer to their child sounds simple but it really does make a huge difference; talk to your child and to read to them daily.
Reception
Starting School
Children join Reception in the school year when they turn 5. All children start in September. School places are allocated by Birmingham city council. Families should apply for a place at school following the Birmingham City Council process and timings.
https://www.birmingham.gov.uk/info/20119/school_admissions/590/apply_for_reception_primary_school/1
For some children starting school will be a continuation of their education with a Nursery provider either here at school or at a private nursery. For other children, Reception could be their first experience of being away from home. For all children and families it can be both daunting and exciting. We provide a full induction programme of registration and information meetings, familiarisation through home or nursery visits and stay and play sessions and then short days to start. The initial focus for Reception in September will be on establishing routines and relationships. Details of the induction programme are included below.
You can access additional information and practical advice on starting school here:
https://www.pacey.org.uk/partnerships/starting-school-together/
What is it like in Reception?
At Grendon, we have two reception classes. Each class has a teacher and a teaching assistant. Class sizes are typically 30 children. Your child's 'keyworker' will be their class teacher.
The Reception classrooms are adjacent to each other with interconnecting doors. Both rooms have self-contained toilets and direct access to the outdoor area. Each classroom has a carpeted area and a messy area. Children will access a full range of activities in their classrooms including dough, paint, books, blocks and construction, games, role play, small world play, as well as more subject specific resources.
Outside, children have access to a climbing frame, wheeled toys, agility tracks, large scale construction. We are developing space for reading and group work. There is a large covered area and we have waterproof suits and welly boots available for the wettest days.
Children in Reception will use the school halls for assemblies and lunchtime, the KS1 playground for playtime and lunchtimes and may also visit the computer suite or school library. We use the school grounds for lessons regularly. Whenever possible we like to take children out in the local area. Visits further afield are arranged when they support the curriculum content.
Children in Reception attend school from 9am to 3.15 Monday to Friday. Term dates and teacher training days are listed on the school website. A typical day will feature a mix of whole class teaching input, adult directed tasks and child initiated work. We teach phonics daily and provide access to the outdoor area as often as practical.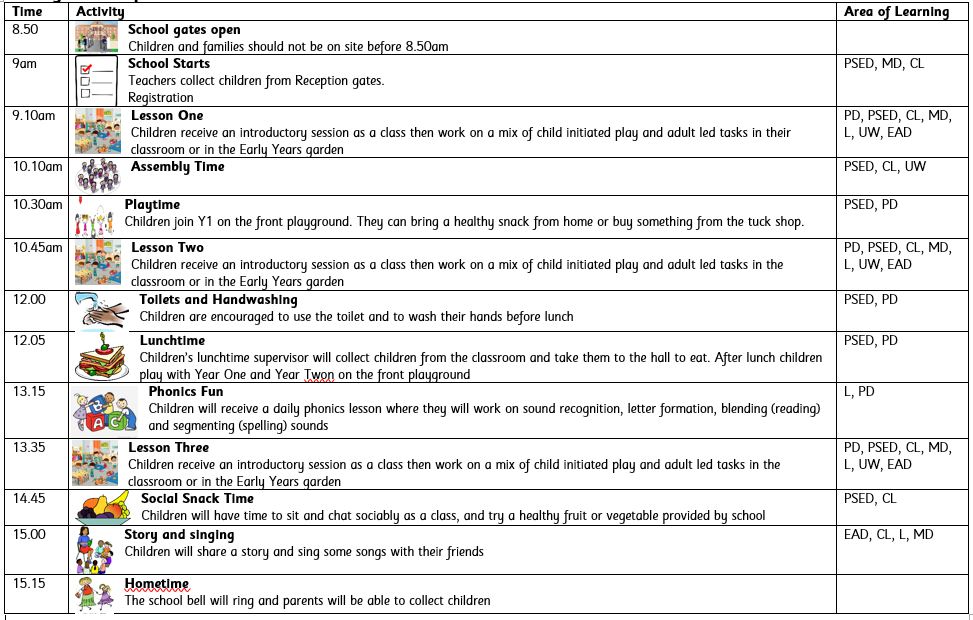 School Uniform
Children in Reception wear a school uniform. They will also require a PE kit and a suitable outdoor coat. School will provide a book bag which should be brought to and from school everyday and used only to store letters and reading books. Snacks and water bottles should be carried separately e.g in a backpack.
Food
Children should bring a bottle of water to school each day. They will be able to drink this throughout the day. We do not allow fizzy drinks, squash or flavoured water in the classrooms.
Children will receive a piece of fruit daily from school and will be encouraged to try this.
For morning snack time, children should bring a healthy snack.
All children in school years R to Y2 are currently entitled to a free school meal. At Grendon, school meals are cooked on site by our school cook. Meals are nutritionally balanced and planned to appeal to children. Allergies and any special dietary needs can be catered for. Menus are available on the website. Parents are of course able to send a packed lunch in for their child but this must be cold food and should be healthy.
Look at the Childrens Food Trust or NHS Change for life for more information and ideas.
http://www.childrensfoodtrust.org.uk/childrens-food-trust/parents/your-childs-food-at-school/packed-lunches/what-to-put-in-a-lunchbox/
https://www.nhs.uk/change4life/recipes/healthier-lunchboxes#mHlUgXtdohJYmMVw.97
Further information
The school website has the most up to date information about what is happening in school. Additional information may be found in the Parents Information Booklet issued to all families when they start at our school.