Attendance

Expected Attendance for everyone is 97%
"I have the right to an education"
UNICEF Article 28
We are clear about our roles and responsibilities in ensuring your children's rights to their education.
We aim to uphold every child's right to education, (Article 28 of the UN Convention on the Rights of the Child) by:
promoting excellent attendance
reducing absence, including persistent absence
ensuring children are at school on time and ready to learn and in doing so, ensure our schools aims can be met, our vision achieved and our ethos realised.
We will do this by:
setting the culture for and expecting high standards of attendance and communicating these clearly.
implementing strategies to promote excellent attendance and punctuality and reduce absence.
rigorously monitoring attendance data in order to spot trends and identify patterns.
building strong relationships with families, listening, understanding and empathising with identified barriers to attendance, but never tolerating them.
facilitating support either from within school, from our team of professionals or by making referrals to outside agencies.
enforcing attendance through statutory intervention or prosecution where all other avenues have been exhausted.
THIS WEEK'S ATTENDANCE BY CLASS
RW
1C
1T
2B
2P
3H
3J
4G
4M
5F
5H
6B
6N
93%
94%
96%
97%
97%
100%
95%
99%
97%
93%
94%
94%
94%
Whole School Attendance this week: 96%
If you have any concerns that are preventing your child/ children attending school, please talk to us. We Can listen and help you. Our school has specialist staff who may be able to help, and all schools work closely with lots of agencies who are able to offer advice and support.
Any requests for leave during term time must be made in writing to Mr. Darby, Deputy Headteacher, before any leave is booked.
Requests can be made via email or in writing.
The request must clearly detail the purpose and the dates for the leave requested.
A meeting will be arranged to discuss the request further.
Whilst always considering each individual request, it is only in the most exceptional circumstances that leave will be granted. For example, it is unlikely that leave would be granted for the purpose of a family holiday.
For any leave, whether authorised or not, once the booking is made, school must have evidence of holiday details, showing children's names clearly.
If parents choose to continue, despite it being unauthorised by school, they risk being issued a Penalty Notice under the Birmingham City Council Leave During Term Time procedure.
School will publicise outcomes of Penalty Notices, promote the importance of regular attendance and the impact leave during term-time has.
Children who arrive between 9.00am and 9.20am will collect a late slip from the office and be marked as late (L) in the register. Although this code means that your child is present in school, they have missed the start to their learning for that day and will immediately have to catch up.
Children arriving after the register has closed at 9.20am will be marked with the (U) code. This is an unauthorised absence code, and means that your child will be marked as absent for that whole session. This will obviously affect your child's attendance percentage, but more importantly, means that they have missed a significant part of their learning for that morning and will have to catch up.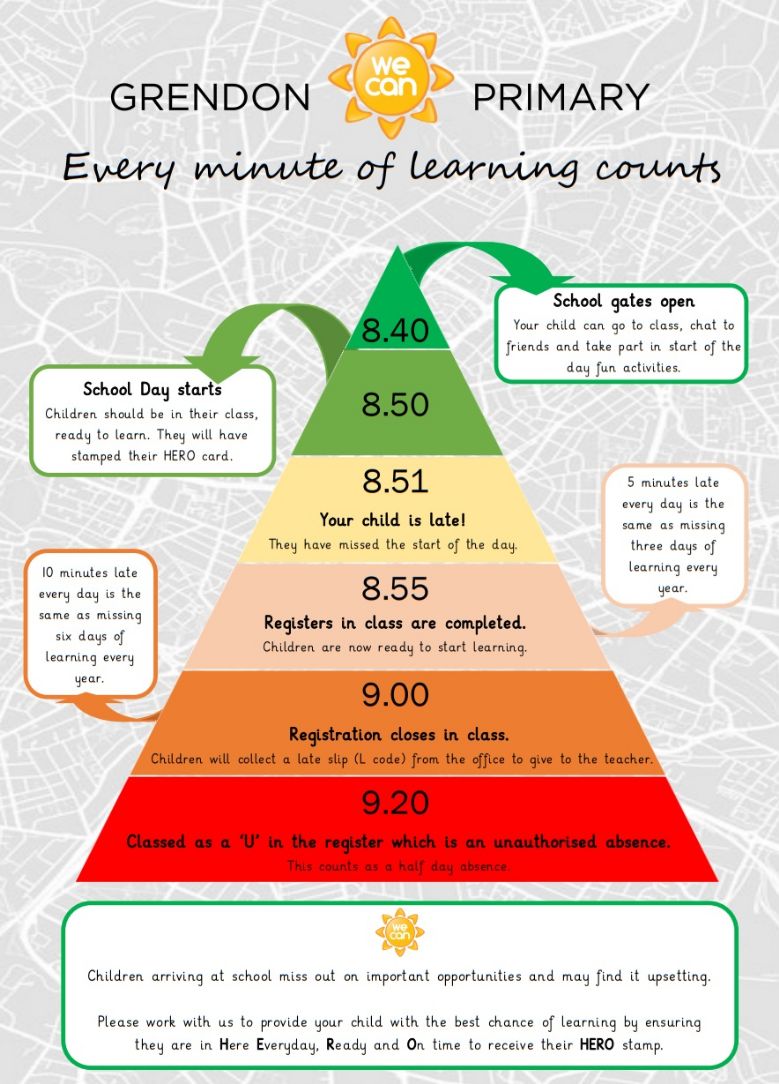 Poor punctuality can lead to your child;
feeling embarrassed in front of friends
missing the beginning of vital lessons
missing important instructions for the rest of the school day
learning bad habits which could affect employability in the future
School uses the Local Authority Fast Track process to raise awareness of the importance of attendance and address attendance concerns. We do not want to refer our families to the Local Authority for legal action, and we will attempt to resolve any concerns you may have before we make the decision to do this. We want to work with you.
Should I keep my child off school?
The following link gives advice about when you should keep your child off school, and for how long;
If you are unsure, please seek medical advice and stay in touch with school.
If you feel you need help with an ongoing health issue for your child, our School Nurse can help you. Please contact the Pastoral Manager, Miss Jones at sj@grendon.bham.sch.uk who will make arrangements to offer support.
What do I do if my child is unwell?
Please phone school and provide a reason for absence by 9.30 on the day of their absence.
If your child has a medical condition you will need to inform the School Office.
If your child requires medicine during the school day please complete a medical form at the School Office. All medicines must be clearly labelled with the child's name and instructions for administering.
We follow guidance from the Health Protection Agency regarding childhood illnesses. We will share relevant information and guidance with you when we need to.
We would like every child to become an attendance HERO!
HERO means "Here Everyday, Ready & On time".
Every day, children will have access to a HERO stamp and an individual record card. As long as they are in the classroom by 8.50am, they will be able to stamp their own cards. If they are late, after 8.50am, or of course absent, the stamp will have been put away and they will miss their stamp for that day.
At the end of the week, every child who has five stamps will receive a raffle ticket. One raffle ticket can be collected every week and put into a half termly prize draw. Our system allows us to recognise and reward regular attendance as well as acknowledging improved attendance. In this way, we encourage not only good attendance, but also punctuality. It also allows children to try again the very next week if they miss their reward for one week.
We will also use a badge system to reward 100% attendance in a term, with children able to earn bronze, silver and then a gold badge for 100% attendance across the whole year.
Does it matter if my child misses a day at school?
Children are required to attend school for 190 days each year. Even relatively few absences mean they miss a lot of lessons.
| Attendance during one school year | Equals days absent | Which is approximately weeks absent | Which means this number of lessons missed |
| --- | --- | --- | --- |
| 95% | 9 | 2 | 50 |
| 90% | 19 | 4 | 100 |
| 85% | 29 | 6 | 150 |
| 80% | 38 | 8 | 200 |
| 75% | 48 | 10 | 250 |
| 70% | 57 | 11.5 | 290 |
| 65% | 67 | 13.5 | 340 |
Please remember that children who miss a lot of school achieve less. How does your child's attendance compare with this figure?
Please see our Attendance Policy by clicking the link to POLICIES here.