Attendance
This week our Attendance Prefects say:
"What a great start to the year!
You've all been trying so hard to get back to school, follow the routines and we are having a great time.
Attendance is really great considering these very unusual circumstances and we're happy that we have so many children in school."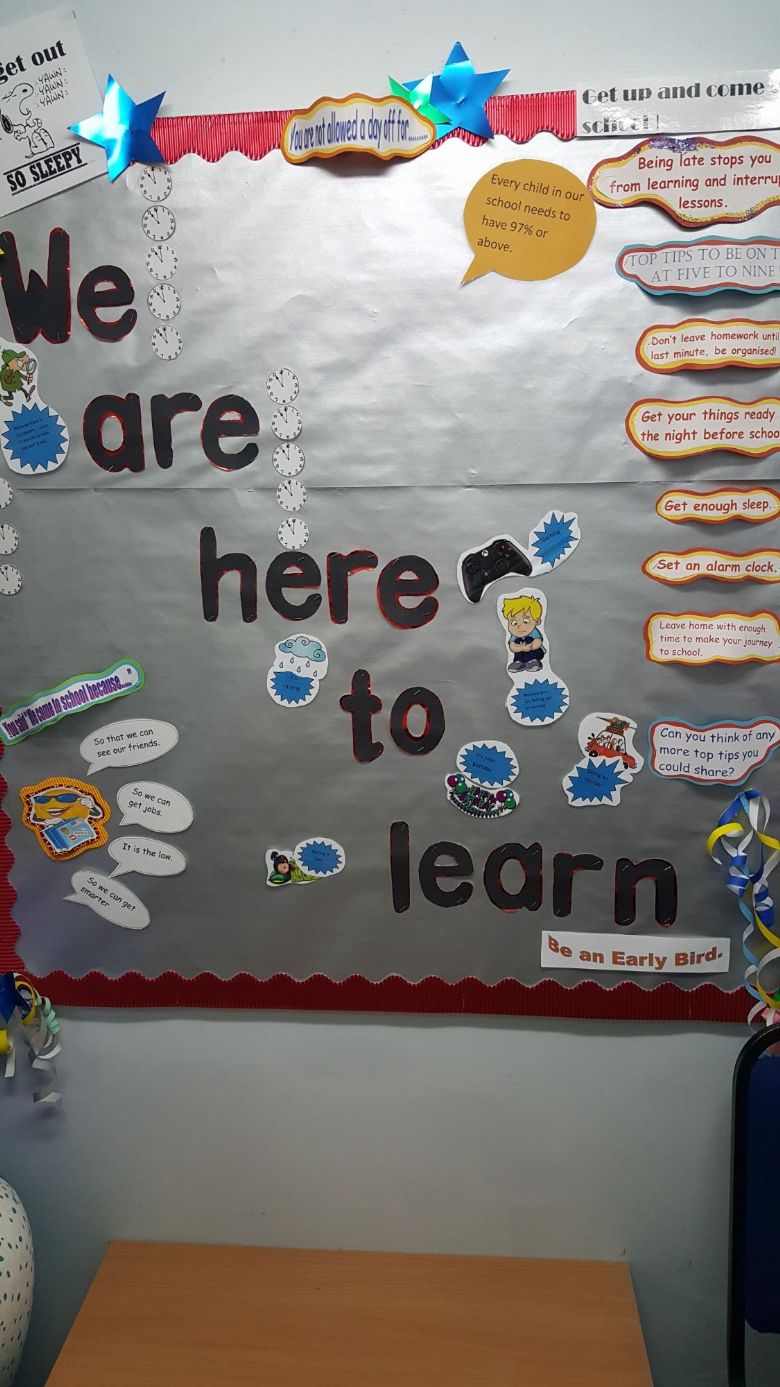 WE ARE A FAST TRACK SCHOOL
Raising the awareness of the importance of children's attendance!
At our school we believe that excellent attendance (100% or as near as possible) can be achieved when staff, parents and children work together in partnership. We work with a variety of outside agencies to ensure children receive their educational entitlement, offer families support and meet our attendance targets.
We believe that children who are regularly late and have poor attendance are being denied their equal opportunities and are not able to reach their potential.
What can I do to help my child attend school?
Establish good routines about bedtime - children need sleep so that they can learn.
Make sure their uniform is ready for them to wear.
Make sure any Book Bags, PE Kits, Homework are ready to bring in.
Make every effort to ensure children attend school every day that it is open and on time.
Be in their lines waiting to start school at 8.55am.
Bring your child to collect a 'Late Slip' from the School Office if they arrive after 9.00am and provide a reason for lateness.
Tell us by phone or writing about any absences relating to illness.
Provide medical evidence when school requests it.
Notify school of absence by 9.30am giving a reason for absence.
Not take children out of school during term time for holidays
Make an appointment to discuss any concerns with staff and give school the opportunity to resolve anything you are concerned about.
Try and make medical appointments like Dentists/ GP's out of school time.
Work with school to access support from specialist services regarding your child's health/well-being.
What do I do if my child is unwell and can not come to school?
Please phone school and provide a reason for absence by 9.30 on the day of their absence.
If your child has a medical condition you will need to inform the School Office.
If your child requires medicine during the school day please complete a medical form at the School Office. All medicines must be clearly labelled with the child's name and instructions for administering.
We follow guidance from the Health Protection Agency regarding childhood illnesses. We will share relevant information and guidance with you when we need to.
If you feel you need help with an ongoing health issue our School Nurse can help you. Please click this link for details.
What if I would like to take my child out of school during term time?
We strongly advise you against taking your children out of school during term time. Headteachers may no longer authorise leave during term time except where there are exceptional circumstances.
This is what you must do:
The Parent/Carer of the child must write to the Head Teacher requesting leave (as a parent the child normally lives with) stating the reason and length of time in school days.
Attend a meeting and provide any travel documentation /paperwork relating to the leave.
It's up to the head teacher how many days your child can be away from school if leave is granted.
You can be fined for taking your child on holiday during term time without the school's permission.
Does it matter if my child misses a day at school?
Children are required to attend school for 190 days each year. Even relatively few absences mean they miss a lot of lessons.
| Attendance during one school year | Equals days absent | Which is approximately weeks absent | Which means this number of lessons missed |
| --- | --- | --- | --- |
| 95% | 9 | 2 | 50 |
| 90% | 19 | 4 | 100 |
| 85% | 29 | 6 | 150 |
| 80% | 38 | 8 | 200 |
| 75% | 48 | 10 | 250 |
| 70% | 57 | 11.5 | 290 |
| 65% | 67 | 13.5 | 340 |
Please remember that children who miss a lot of school achieve less. How does your child's attendance compare with this figure?
How do you decide who goes on the Attendance Reward Trip?
The Cinema Trip to is a reward for good attendance and to encourage other children to do better with their attendance.
This trip is run three times a year providing everybody with the opportunity to go.
This term we are only taking children with no more than 2 absences between September and the end of term (December).
Children who are regularly late will not be allowed to go.
I have a question or concern about Attendance. Who do I contact?
Miss Jones is our Pastoral Manager, she works with children and families to ensure regular attendance at school. Miss Jones works closely with lots of agencies and can also offer you advice and support. Please contact the office to arrange an appointment.
Please find a selection of useful resources below.