Great Grendon Book Quiz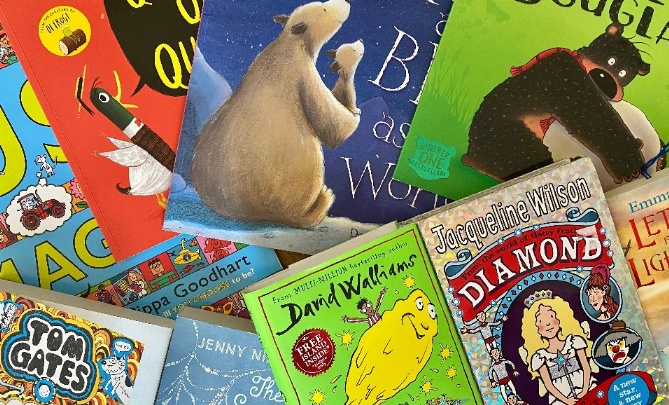 Start preparing for World Book Day and you could win a prize!
On Thursday 2nd March, it is World Book Day and the children will be invited to come to school as a book character in return for a 50p donation. I will write to you again nearer the time to remind you of this.
On World Book Day, we will also be holding The Great Grendon Book Quiz. The children will be given a list of books and all the questions will be taken from those books. So, all the children have to do to stand an amazing chance of winning the quiz is to read the books on the list! The winning team members will receive book vouchers.
Book reviews
As well as this, if children read the books on their book list and return 10 completed book reviews they will be rewarded with a certificate and a raffle ticket. The raffle tickets will be put into a draw for a chance to win prizes such as books, reading torches, reading blankets to curl up under and more.
A copy of the book reviews can be downloaded below to print at home, or children can ask for a paper copy at school.
The Book List
The KS1 book contains a mixture of books suitable for children aged 4 to 7 years old. The KS2 book list contains a mixture of books suitable for children aged 7 to 11 years old. Children do not have to be able to read the books independently, you can read them with them or to them.
There will be copies of the books in the school library and a number of the books are available on our online library ePlatform by Wheelers. As you can imagine the demand for these books will be high! It might be an idea visit the local library, form a little book club with friends and swap books or, with Christmas coming up, the books on the list would also make ideal presents.
For KS1, we will be holding Storytime sessions where children can stay after school, with a parent, and listen to a story on the list. More information about storytimes will follow.
Grendon Library Opening Times
Monday – Year 1 and Year 2
Tuesday – Year 3 and Year 4
Wednesday – Year 5 and year 6
The main gate will open at 8.10am until 8.20am to allow access to the library. After this time there will be no further entry.
Books can be borrowed for two weeks unless the book is on the quiz list, these books can be loaned for one week.
Books can be returned to the blue book return box in the Year 2 corridor.
The Book Lists
KS1 Book List (Reception to Year 2)
The First Hippo On The Moon - David Walliams
The Rain Before Rainbows - Smriti Hall
Dog Gone - Rob Biddulph
The Smeds And The Smoos - Julia Donaldson
Wrong! - Ciara Flood
Brrr! - Kes Grey
The World At Your Feet - Karl Newson
Don't Be Horrid Henry - Francesca Simon
Look Up - Nathan Byron
The Proudest Blue - Ibthihaj Muhammad
Eyes That Speak To The Stars - Joanna Ho
Roar! - National Geographic
The Big Christmas Bake - Fiona Barker
Think Big! - Kes Grey
Cake - Sue Hendra
Okapi Loves His Zebra Pants - Terri Tatchell
Too Much Stuff! - Emily Gravett
KS2 Book List (Year 3 to Year 6)
The Breakfast Club Adventures - Marcus Rashford
Horrible Histories, Terrible Tudors & Slimy Stuarts - Terry Deary
Monster Madness - Guy Bass
The 13 Storey Tree-House - Andy Griffiths & Terry Denton
Hidden Figures - Margot Lee Sketterly
The Girl Who Saved Christmas - Matt Haig
My Headteacher As A Vampire Rat! - Pamela Butchart
Weird But True! 2023 - National Geographic
The Hatmakers - Tamzin Merchant
Journey - Aaron Becker
When The Mountains Roared - Jess Butterworth
Great Adventures - Alastair Humprey
The Dog That Saved The World Cup - Phil Earle
Rumayasa, A Fairytale - Radiya Hariza
Peanut Jones And The Illustrated City - Rob Biddulph
Happy Reading!