Covid19 Daily Update
School closed at 3.15pm on Friday 20th March. We do yet not know when we will reopen.
School is open to children of key workers or the most vulnerable. You will have been contacted if this applies to you. All other children should stay home. There is a letter that you can open at the bottom of this page that will explain everything you need to know.
Free School Meals Update
The following arrangements for Free School Meals during the time of school closure will apply:
We have been providing packed lunches to be collected from school. This has now stopped.
The universal scheme where all children in Reception, Year 1 and 2 had a meal each day will not operate during this time. Only children who are eligible will now receive a food voucher.
Eligible children should have already had their code to get a £15 voucher to support families through the Easter holiday period. Birmingham Local Authority put this in place to support families before the Government scheme begins after Easter.
From 20th April, the Government Scheme will begin. If you are eligible, you will be emailed a code to get a voucher for £15 per child. This will come directly from the company and not from school. This will happen each week in term time while school is closed. We may need to check your email address with you to ensure this happens.
Thank you for your support. We are sorry that this may have been confusing. It is not a school process and we cannot change it or simplify it.
If you have any further concerns, please email school on emergency@grendon.bham.sch.uk and staff will get back to you.
We have started a Food Bank for families, and we'd like to thank all the volunteers who are helping us. We have also had amazing support from Fareshare Birmingham and Brian English at Yardley Wood Baptist Church.
Please email emergency@grendon.bham.sch.uk if you would like support through this service.
-----------------------------------------------------------------
DAY TWENTY (09.04.20)
Day Twenty and it's hotter than ever, we hope you are able to see a little bit of sun on a daily walk or doing the exercise you are allowed to do once a day.
We've had lots of lovely art and creative activities and pictures on these pages but today we've got some Science for you! Mrs. Foster has been experimenting with how water makes colours run. Have a look...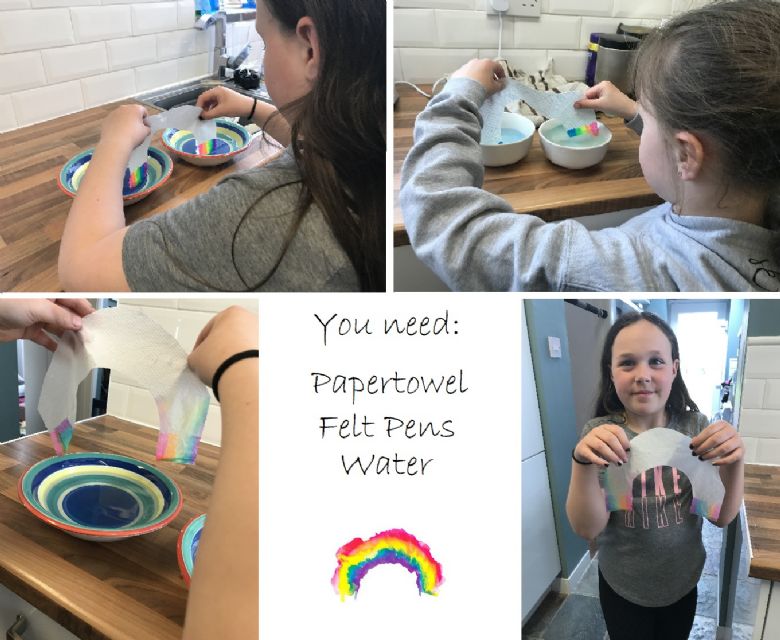 Could you do this experiment and make a rainbow? Or maybe you could try a different kind of experiment. Remember, a good experiment is a FAIR test!
And there is now another Easter Egg hiding on the website, can you find it?!
Previous Messages to our Grendon Family...
DAY NINETEEN (08.04.20)
It's another lovely day and we're still finding lots of things to do, but what if you're struggling for ideas or getting bored of doing the same things? Well, Mrs. Thompson has made a Chatterbox with her daughter. You can find out how to make one HERE.
They decided to put lots of interesting activities inside the Chatterbox and then it's a game to see which task they will do...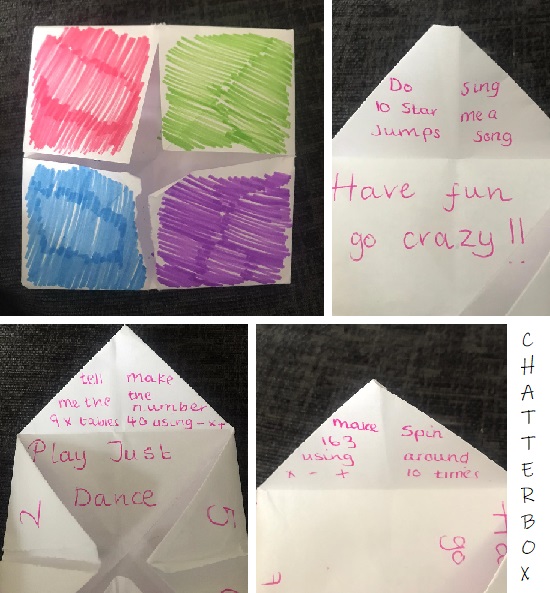 You can also find the third Easter Egg from the Great Grendon Easter Egg Hunt on the website now. But no clues today!
DAY EIGHTEEN (07.04.20)
How have you been getting on with Mrs. Ridley's challenge so far? If you can't remember what it was, click on the 'Previous Messages to our Grendon Family' tab below this message. Some of our staff have taken on the challenge already! Mrs Sparkes daughter has made some lovely treats and Miss Pace clearly is starting a new career...!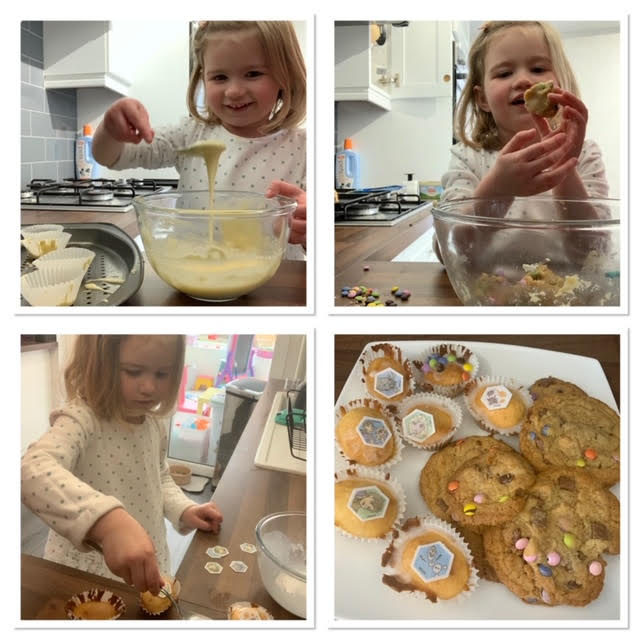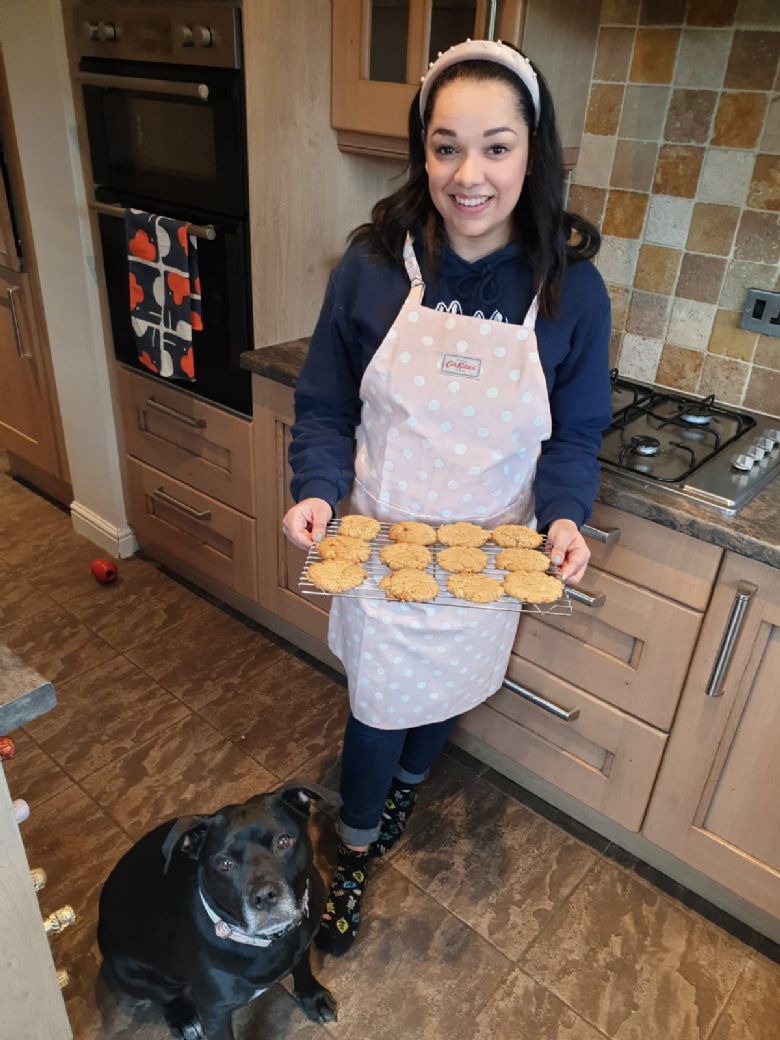 Also the second Easter Egg has appeared on the website! Can you find it, I don't think we'll give you a clue today so you'll have to have a good look... oh, ok, look really closely under all the News & Events tabs. That's it - no more help! Have fun hunting!
DAY SEVENTEEN (06.04.20)
Monday means we have a challenge from Mrs. Ridley. How have you been getting on with your time capsules? Shall we see what she's got planned for us this week...
Also it's the first day of the Great Grendon Easter Egg Hunt! We have hidden the Easter egg somewhere on the site. There will be seven different locations and the winner will get a chocalatey prize! One new egg will appear every day.
We'll be nice today and give you a clue; Where would you find out who works in our school? Good hunting Grendoners...
DAY SIXTEEN (05.04.20)
Well the sun is shining and it's warmed up again so it's a little disappointing that Government advice it still to stay home as much as possible... but that doesn't mean you can't make it feel all summery where you are! Miss Gwinnett has sent us a photo guide of how to make some bunting...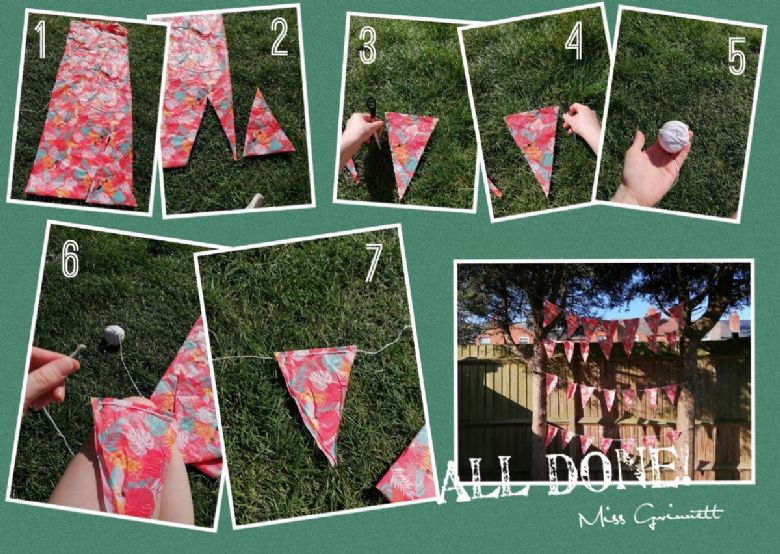 If you don't have access to an outside area, maybe you could decorate your bedroom window or even the bathroom! It's nice to have a project to work on. Remember to ask for an adults help for anything you find tricky or if you're using scissors.
Also today we have news of the Great Grendon Easter Egg Hunt! Every day, starting tomorrow, we will hide this Easter Egg somewhere on the website;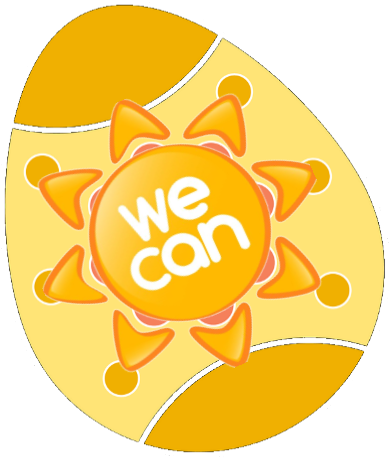 This egg will appear on different pages every day until Easter Sunday. Write down all the places you see it (7 different pages) and tell your teacher when you're back at school. One person might get a chocolatey prize!
DAY FIFTEEN (04.04.20)
It's the first day of the Easter holidays but, as promised, our updates won't stop. Today we have a lovely video from one of our music teachers, Miss Fox...
Come back tomorrow for some news on an fun virtual competition we will be running for the first week of Easter. Have a great day!
Week Two (28.03.20 - 03.04.20)
DAY FOURTEEN (03.04.20)
Today would be the last day of term normally, but it's not exactly normal at the moment! But it's Friday so it is normal to hear from Mrs Ridley and she has two letters again, one for children and one for Parents and Carers...
Letter for Children
Dear Children,
I hope that you are all staying safe and listening to what the adults are telling you to do. It is really important that you do at this time.
You know that we ask you a lot in school to use your growth mindset and We Can attitude. This week, I had to use mine. I had to do something that I had never done before. I was asked to talk about our school and our school song on the radio with thousands of people listening. It was very scary and I thought that I couldn't do it. I was very worried. But then I went for a walk around school. On the walls in your classrooms, I read all of our growth mindset posters and looked at some of your work. I remembered that sometimes you find something hard and are worried that you can't do it but then you try. And you do it. So, I did the same! I did it! I hope you all listened to what I said on the radio because I was talking to you all.
I know we are doing things in a different way right now, but We Can and we will see everyone again soon. Year 6, I meant what I said on the radio, we will work out a way of doing all the things that you might miss if we are not back at school.
For now, go and have a lovely Easter holiday everyone. Eat lots of chocolate, you know I will! I will write to you again after the holidays.
Stay safe,
Mrs Ridley
Letter for Parents and Carers
Dear Parents and Carers,
I hope you are staying well and looking after your families as best you can in these increasingly difficult circumstances. Can I stress once again, the importance of following Government advice at this time. All of us needs to play our part. It is our collective responsibility to do so.
School continues to remain open for vulnerable children and children of key workers where no other provision can be made. This will continue through the Easter holiday and I would like to thank my staff for their unwavering support with this, when they, like all of us, remain concerned about their own families.
Can I also take this opportunity to let you know the facts about access to free school meals for your children, which I know has caused some concern:
The Government scheme of providing a free meal for all children from Reception to Year 2 is no longer in operation. Children will only get one if they are eligible, as has always been the case for children in Years 3-6.
As promised, we have provided packed lunches that have been available for collection from school during the last 2 weeks.
This will stop from today. There will be no packed lunches for collection from Monday 6th April.
We now have a voucher code for every child eligible for free school meals. We have contacted you if this applies to you.
After Easter a voucher system will remain in place although this then changes from the Birmingham system to the Government system so we will need to contact you again.
Once this is in place, you will be sent vouchers automatically each week.
We will continue to provide packed lunches for children who are still in school and I will speak to individuals about this.
To summarise, if your child is eligible for free school meals, you should by now have had a code emailed to you. Packed lunches will no longer be available to collect from school.
To finish on a high note, I hope you have all had chance to watch staff singing our We Can song on our website and have listened to the radio interview that followed. It has been a privilege to talk about our school and your children during this time. The words of the song were their words and continue to mean something to all involved in a Grendon. We Can and we will beat this together.
I thank you for your continued support and wish you all a very happy, (but very different), Easter holiday. We will continue to update our website and work on the class pages throughout this time, although I won't write to you again until after the holidays. Please keep checking the website for updates daily.
Stay safe,
Mrs H Ridley
Headteacher
We are not stopping over the Easter break so you will still see updates every single day and, without spoiling the surprise, there are a few really good things coming up so come and visit us every day! Til tomorrow...
DAY THIRTEEN (02.04.20)
The weather is still not great so we're not missing much by being indoors at the moment. That certainly is the case if you've got a good book to read. Mrs Rodgers has been reading 'Paper Dolls' by Julia Donaldson with her daughter. They then decided to make some...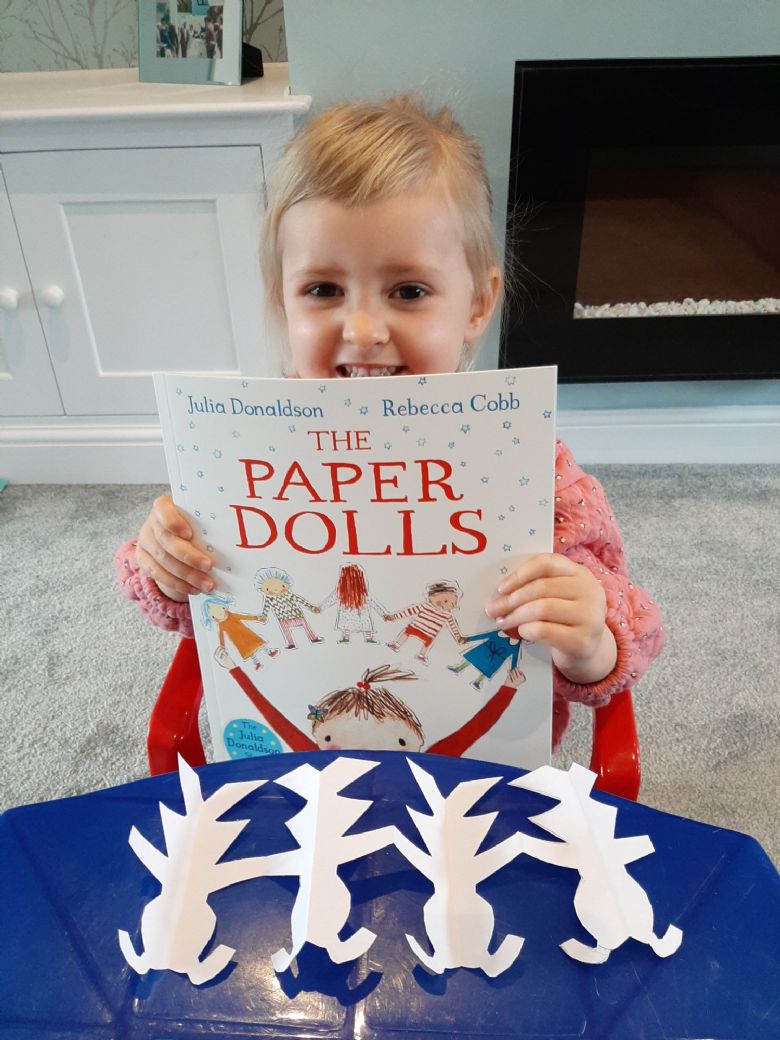 Can you think of a book you'd like to read today? Maybe you could make something based on the story. You could build a castle, create a puppet or maybe even act out the story. We can't wait to hear about your favourite books when you get back to school.
DAY TWELVE (01.04.20)
It's new month! I'm sure none of you were mean enough to play any April Fools' jokes of course! As it's after 12 now, the rule is you've missed your chance, you'll have to wait for next year!
As it's the start of a new month we thought we'd take this opportunity to recap a little bit and remind you where things are. Firstly, under the class pages you'll find weekly work which changes every Friday. Secondly, all previous messages, pictures and challenges can be found under this one on the drop down menu.
Finally, it's important you check in daily. The blue blocks often have important messages, such as the Free School Meals notice that is currently there. It's a rapidly changing situation so it's good to look at the website regularly to make sure you're not missing anything that can help you and your family.
We're missing you all and can't wait to see you all again. Keep smiling and remember "We Can"!
DAY ELEVEN (31.03.20)
Well, we're famous today! Our We Can song has caught the attention of local radio (you can still see it below) and Mrs. Ridley was interviewed by Radio WM...
It's also possible to read a story on the BBC website about it HERE
It's important to remember "We Can!" and to keep using our Growth Mindset to face the challenges we are experiencing at the moment. Well done everyone, keep going!
DAY TEN (30.03.20)
It's Monday and as promised we have Mrs. Ridley's first challenge...
Hi everybody,
I hope that you are all doing ok and staying safe, we miss you. Your teachers have left you school work to do on your class pages and there are lots of links to other activities if you want more.
I thought I could challenge you in a different way, making the best of the fact that you are at home by challenging you do to complete tasks that we probably wouldn't do in school.
Each week I will record a video that sets a challenge for you to do at home. There will be a new challenge each Monday. You have the whole week to complete it. There will be a prize for any of you that can prove to me that you have completed each weekly challenge by the time we come back to school. You decide how you will be able to prove it to me.
So, use your growth mindset and be ready for the challenge.
Remember....We Can! Let the challenges begin...
Check back every Monday for a new challenge!
DAY NINE (29.03.20)
Good afternoon! Did you remember to put your clocks forward? Today we thought it'd be nice to have a little singsong so Ms. Richardson has recorded this for everyone but Reception will definitely know the words!
Tomorrow look out for Mrs. Ridley's first challenge post and we'll have news of an interview that will be on radio. Enjoy the rest of your weekend!
DAY EIGHT (28.03.20)
It's the weekend! Unfortunately the sun has disappeared and it's a little bit chilly again. So today we're all curling up on the sofa and getting cosy. That's brilliant for Mr Windsor because he now gets to spend sometime with some very special creatures...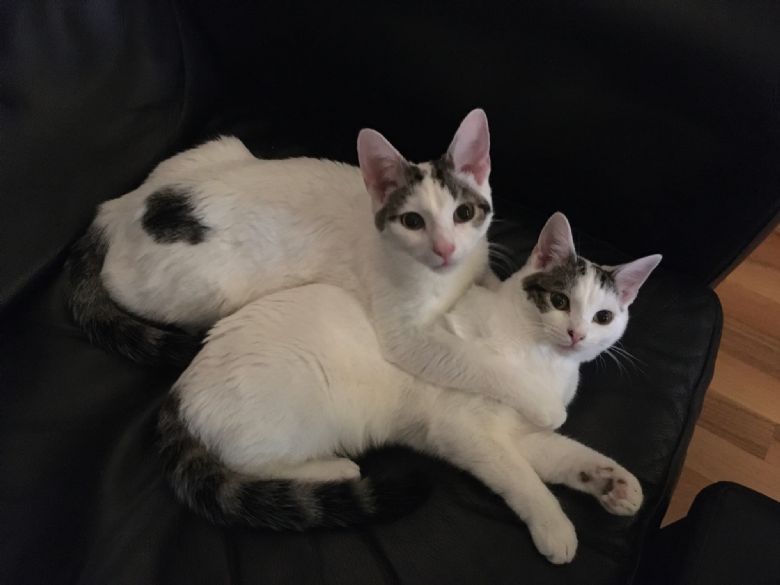 Milo and Flynn aren't really practising social-distancing but we think we can forgive them! Do you have pets you are looking after? Have a look outside your window and see how many different types of animals you can see. Does it change depending on the time of day?
Week One (21.03.20 - 27.03.20)
DAY SEVEN (27.03.20)
It's nearly the end of our first week without you all! It's been a very strange week but we have been hearing and seeing lots of positive things too so keep smiling and keep working on all the challenges we have set.
Every Friday Mrs. Ridley will be writing a special letter for Parents and Carers as well as one for the children. You can find them both here;
Letter to the Children
Dear Children,
One of the children who is still coming to school asked me this week what it was like to be a Headteacher. It is certainly very strange at the moment, because I am a Headteacher without many children in school and I don't like it at all.
I want to tell you that I am very proud of you all for using your growth mindset and showing our WE CAN attitude. I am proud of you if you are still coming to school because you have smiled your way through this week. I am proud of you if you are staying at home because I know that you have been on our website and are doing your work – just make sure that you are staying in gold! Teachers have eyes in the backs of our heads, we will be checking!
Please keep looking at our website. Click on the red banner at the top and it will take you to our latest news. I will write to you every Friday. Each Monday, I will be setting you a special challenge for the week with a prize for anyone who can complete all my challenges by the time we come back to school.
So for now, remember to do what the adults are telling you. It is really important and will help to keep you all safe.
KEEP WASHING YOUR HANDS
Stay safe,
Mrs Ridley
Letter to Parents and Carers
Dear Parents/Carers
Firstly, may I offer you my congratulations if you have survived your first week of home schooling or thank you on behalf of us all if you have continued to work as a critical worker.
I will keep you up to date with everything we know on a Friday, although will of course make you aware of any immediate developments as soon as they happen. I will also write to the children weekly, please read it to them if they are unable to read it for themselves.
We have a number of children remaining with us in school. I am immensely proud of my staff and the children for the way in which they have risen to this challenge and change of circumstance at a time of huge anxiety for us all. The children are amazing and are having a brilliant time.
For those of you at home, we know that you are accessing our website which continues to be updated daily, enjoying what we are offering and doing your best as the nation's newest 'teachers'. Your messages of support continue to make us smile. Many thanks for these.
As you know, staff will update work on the class pages on a Friday, ready for the next week. There are many additional opportunities for online learning signposted from our website in the Funzone section as well as in Latest News. We will continue with these updates over the Easter holidays as we are aware that we are all being advised to stay at home. Please continue to enjoy and work through the activities with your children during the holidays if you wish.
For those of you eligible for Free School Meals, the Government has promised us a voucher system. This is not in place yet. Birmingham Local Authority is therefore working to develop its own system that we expect to have details in school today or early next week. It is likely to involve us providing eligible families with a voucher code that they will then login to a website with and access vouchers. You are likely to need an email address in order to do this so please look in to this if you do not have one. We will post more information on the website as soon as we are able.
Finally, I would like to thank you all for the community spirit and sense of togetherness that we can feel from you all. If we work together and follow the Government advice, "stay at home, save lives, protect the NHS", WE CAN beat this together. Remember, you can contact us on emergency@grendon.bham.sch.uk if you need us urgently and the information you need is not already available on our website.
Stay safe,
Mrs Ridley
Headteacher
You will also be pleased to know the next lot of Work from Home tasks are available on the class pages. Don't worry if you've not quite finished last week's work - this can still be found at the bottom of each class page.
We will be continuing to update this page every day, including weekends, so keep checking back. We'll leave you this week with a collage of pictures we've been sent during the week from our amazing staff. There's a rainbow theme! We have a picture the children who are still at school made, Mrs. Thompson has been baking rainbow cakes, Miss Gwinnett has been making rainbow paper chains, Mrs. Collins has been painting rainbows with her family and Mrs Rainford found a lovely poem to remind you it will all be ok!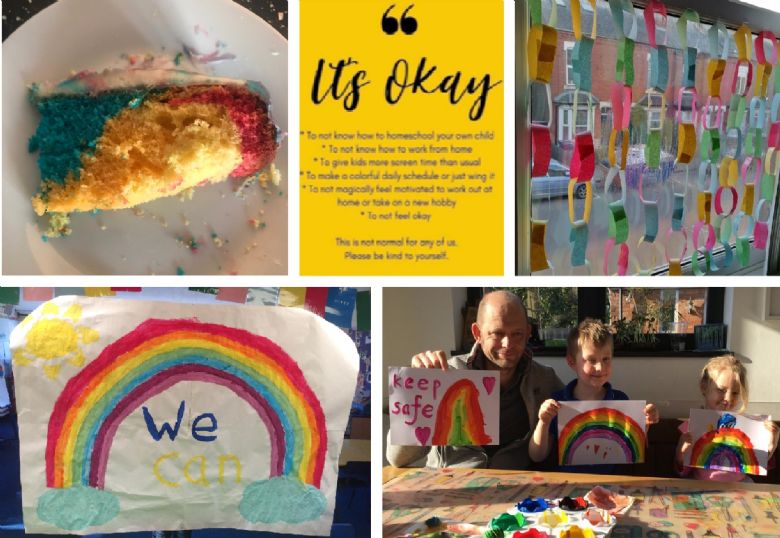 DAY SIX (26.03.20)
We have lots of teachers doing work outside in this lovely weather. Mr. Feely has been doing some maths with his children. He said "We have been doing some outdoor maths! We all know that social distancing means that we should stay 2 metres away from everyone but what does that look like in real life?" He decided to try...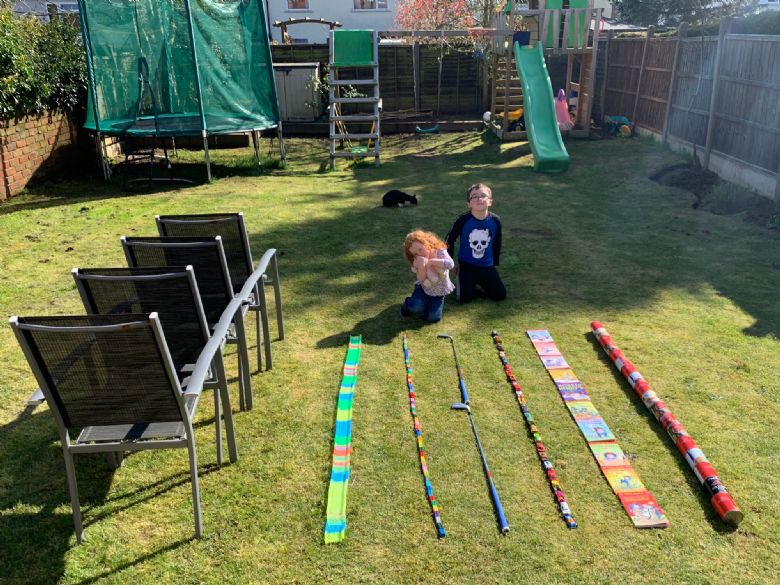 So the answer? 2 metres is equal to:
58 pieces of lego
18 tins of food
2 golf clubs
4 chairs
10 Horrid Henry books
28 Hot Wheels cars
129 pieces of Magic Track
What could you use to measure 2 meters? Remember to write down your ideas so you can show them us when you're back in school.
DAY FIVE (25.03.20)
OK, we've changed our minds - we will keep the old messages because everyone is loving looking at them so much! But we'll keep it in a drop down menu below this and you might have a lot of scrolling to do by the end of it!
Today is yet another sunny day, where was this when we were at school? Mrs. Sparkes has been out in the garden with her daughter having lots of fun...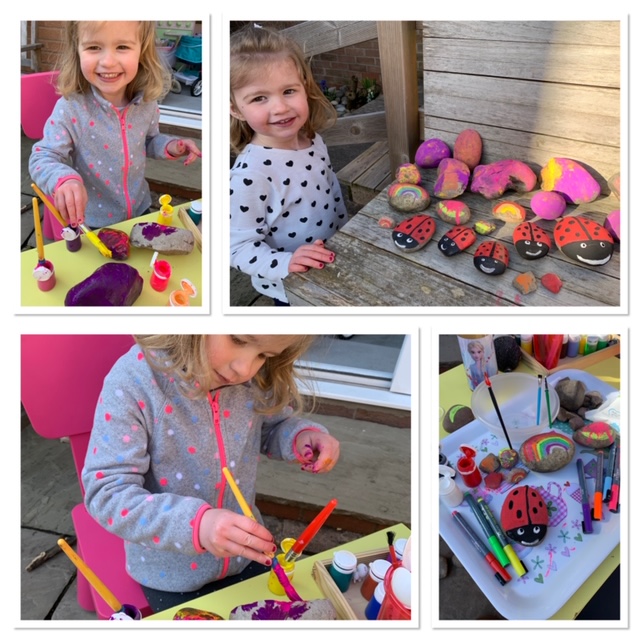 Do you think you could do this? Or maybe just find some interesting insects now the weather is getting nicer! If you're staying inside maybe you could draw as many different insects as you can think of!
DAY FOUR (24.03.20)
It's another sunny day and we hope you have been enjoying the tasks you've been set on your class pages. Just click on classes and you'll find it all there.
Today we received a great book from a parent about Coronanvirus and thought we would share it with you. We've got a PDF version you can download at the bottom of the page or you can watch the video below!
DAY THREE (23.03.20)
We're having a few computer gremlins today which means our update has been a little later than we wanted, sorry! All the staff were in school today getting ready for the next few weeks and making sure we have lots of fun challenges for you while you're away. We've filmed a little video for you to watch below - see if you can join in...
DAY TWO (22.03.20)
Normally you'll only see a daily update and all previous messages will be deleted, but while we're setting up we'll leave a few old ones for you to look at. But not for long! So don't miss out and make sure you check back every day for new challenges, activities or silly pictures and videos from your teachers!
Today is also Mother's Day so instead of setting you a challenge, why don't you think of something lovely you could do for your Mum, Nan or someone you care about. Even if you can't see them today, you could make something for them for the next time you see them. Have a great day!
DAY ONE (21.03.20)
It's day one since we sadly had to close our doors to most children but we're all thinking of you and this page is going to be updated every day if possible.
Mrs. Ridley will be posting messages regularly and lots of our wonderful staff will be sharing what they have been doing or even giving you fun challenges!
First up, Mrs. Pollitt has sent in this brilliant picture of a chalk drawing she has made with her son...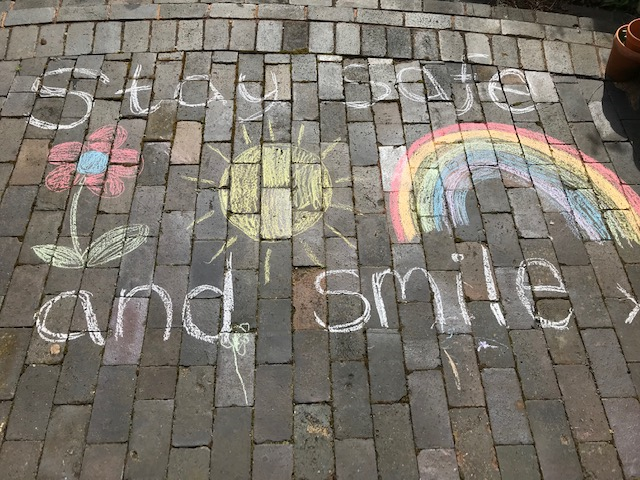 Can you do this? Or maybe you could draw one on a piece of paper and then show us when we're back at school? If we get enough, we might be able to have a massive display of all the great work you do while we're closed!
SPECIAL FREE RESOURCES
Twinkl are offering free membership to their site in light of school closures. This is one of the most useful resource banks in the UK and is normally a paid for service. You can sign up HERE using the offer code UKTWINKLHELPS.
PhonicsPlay is another site who are offering free membership during this period. The focus here is Phonics and a little bit each day is brilliant for children to improve their reading and writing. Click HERE to access their site.
Suggested Daily Schedule for Children
You can also download a printable version at the bottom of the page.
Before 9am (Wake up)
Time to start the day! Wash, eat breakfast and brush your teeth. Don't forget to make your bed!
9.00 - 9.15am (Start the day)
Have a chat about the activities for the day.
9.15 - 10.15am (Marvellous Maths)
The Maths learning activities can be found on class pages of the school website.
10.15 - 10.45am (Snack and exercise)
Enjoy a healthy snack and do some exercise. What can you do to stay active?
10.45 - 11.45am (Excellent English)
The English learning activities can be found on class pages of the school website.
11.45 - 12.15pm (Relaxing Reading)
Time to relax! Enjoy reading to yourself or someone reading to you. Where is your favourite spot to read?
12.15 - 1.00pm (Lunch and Exercise)
Don't forget to wash your hands.
Then have some fun exercising. What will you do to keep your body healthy?
1.00 - 1.30pm (Chore time)
Lend a helping hand! Help with some cleaning, tidy your room etc.
1.30 - 2.30pm (Perfect Project)
Time to get creative! The project learning activity can be found on class pages of the school website.
2.30 - 3.15pm (Spellings, Times Tables and MyMaths
Spend some time doing each of these things.
3.15 - 4.00pm (Exercise)
Get creative! Make up a dance, do some yoga, do a YouTube children's work out (adult supervision is necessary when online.)
4.00 - 5.00pm (Game time)
Have some fun with board games, puzzles and playing with toys. What is your favourite game? Can you make your own game up?
5.00 - 6.00pm (Dinner time)
Make sure you wash your hands before dinner. What's on the menu tonight?
6.00 - 8.00pm (Chill out time)
Relax with your family, play, read or watch TV. What's your favourite way to relax?
We will post learning activities on our website and will update these weekly. These can be found under the CLASSES tab and can be downloaded and printed off if you want by looking at the bottom of the class page.
In addition, we have also updated the links section of the website with even more fun and educational links to other websites. They can be accessed by clicking HERE or under the Curriculum-Fun Zone tab.
For further information please see:
Government Coronavirus (Covid19) Advice
Worried about how to speak to your children about Covid19? Worried yourself? This site has some great advice: Place2Be
You can also contact school directly if you have an urgent issue. We have set up an special email address during this period:
emergency@grendon.bham.sch.uk

Stay happy, stay healthy and we'll see you all again soon!
Some extra ideas from our Parents and Carers!
Diversity Dance Classes!
Diversity are giving you lessons for free. CLICK HERE
Joe Wicks PE Class
The Body Coach hosts a live PE lessons at 9am. CLICK HERE
Taskmaster for Kids
Alex Horne is setting lots of weird and fun challenges! CLICK HERE
Tidy Up!!
Need a song to help your children be inspired to tidy up?! CLICK HERE
SCARF - Harold the Giraffe
Daily activities from Harold the Giraffe from Life Education. CLICK HERE
Audible
Free streaming of children's books while schools are closed. CLICK HERE.